THURS 14/04/11
Nardwuar vs. Wesley Willis
Nardwuar vs. Das Racist
Hear Santigold's New Song With Karen O
Rick Kuper Chainsaw Artist demonstration
Beastie Boys Hot Sauce Committee Part 2 (Album Preview)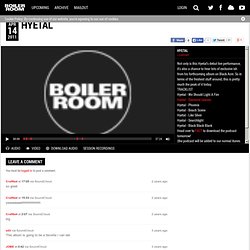 Not only is this Hyetal's debut live performance, it's also a chance to hear lots of exclusive ish from his forthcoming album on Black Acre. So in terms of the freshest stuff around, this is pretty much the peak of it today. Hyetal - We Should Light A Fire
Hyetal – 'Live From' Fact x Young Turks
Eat Your Own Ears and former Late Of The Pier man Sam Potter are teaming up for an interesting series of gigs called Blackout. These will take place in total darkness - you won't know who is playing before going along, and while there the room will be pitch black. This idea, say the organisers, is thus: "The audiences are kept in the dark in all senses of the phrase. Live performances by exciting acts will take place in complete darkness, and the bands' identities are never revealed.
Eat Your Own Ears Announce Gigs In The Dark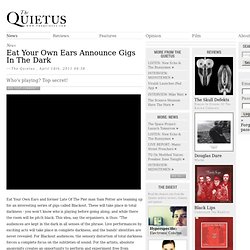 Albino Alligator
The Meters - 'Chicken Strut' (1970)
Source Code' Trailer
The multiverse (or meta-universe) is the hypothetical set of infinite or finite possible universes (including the historical universe we consistently experience) that together comprise everything that exists and can exist: the entirety of space, time, matter, and energy as well as the physical laws and constants that describe them. The various universes within the multiverse are sometimes called parallel universes. The structure of the multiverse, the nature of each universe within it and the relationships among the various constituent universes, depend on the specific multiverse hypothesis considered. Multiple universes have been hypothesized in cosmology, physics, astronomy, religion, philosophy, transpersonal psychology and fiction, particularly in science fiction and fantasy.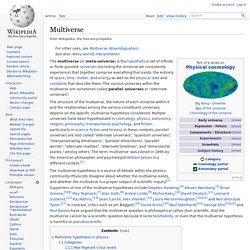 Lil' Sandwhiches
Spinal Tap Elvis grave scene
Pink Floyd - Vegetable Man (Syd Barrett)
Cat's Eyes - 'Face In The Crowd' Video Exclusive - NMETV Latest Music Videos and Clips | - NME.COM
The First Time I Heard Themselves... Pt. 1 on Vimeo
ANIKA - I GO TO SLEEP
James Pants - Thin Moon
The Kinks - I Go To Sleep
man flu
E.T. Soundtrack
BBC Radio 1 Programmes - Zane Lowe, The Streets in session, The Streets - Turn the Page in session
Machine Drum (Planet Mu - Hotflush) - Live @ The Big Fish / Sntwn on Vimeo