Poems
Poetry for Kids Poetry Games. It's a fact, kids love games!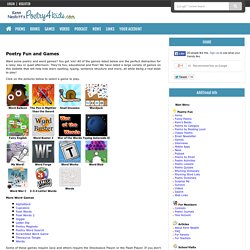 From online RPG games on the computer to tag in the backyard, games are a huge part of most all kids' lives and an important, fun way to learn many different skills. Want some poetry and word games? You got 'em! SLAM IDOL. Audio Poetry Archives and Anthologies. Caught in the Act: The Making of a Live Poetry + Music CDWhitman McGowan recounts his experience producing a live poetry performance CD, from its genesis in the dream of a European performance tour through collecting recordings and permissions to designing the CD package, selecting & mastering the audio tracks, and enduring the glitches in the actual CD manufacturing process.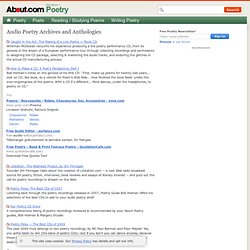 How to Make a CD: A Poet's Perspective, Part IBob Holman's notes on the genesis of his first CD: "First, make up poems for twenty-odd years... look on CD, like book, as a vehicle for Poem's Wild Ride... How finished the book feels! Unlike the ever-ongoingness of the poems. Student Materials: Acrostic Poems. Grades 7 – 10 | Lesson Plan | Standard Lesson Engineering the Perfect Poem by Using the Vocabulary of STEM Students research engineering careers and create poetry to understand the vocabulary of STEM (science, technology, engineering, and mathematics).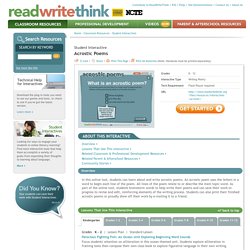 Grades 6 – 12 | Lesson Plan | Standard Lesson Making History Come Alive Through Poetry and Song Students compare the sinking of the Edmund Fitzgerald with the song, "The Wreck of the Edmund Fitzgerald," then create their own poetry about a historical event. Favorite Poem Project.
---