History of the world
Best of History Web Sites, created by EdTechTeacher Inc, is an award-winning portal that contains annotated links to over 1200 history web sites as well as links to hundreds of quality K-12 history lesson plans, history teacher guides, history activities, history games, history quizzes, and more. Best of History Web Sites has been recommended by The Chronicle of Higher Education, The National Council for the Social Studies, The New York Public Library, the BBC, Princeton University, -- and many others. EdTechTeacher Learning Futures Summit Join educators from around the world at Chicago's Navy Pier, July 28-30, 2014, for three days of workshops and conference sessions dedicated to exploring the future of learning.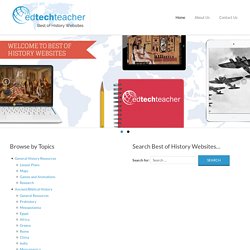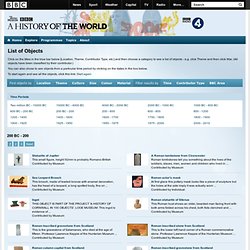 A History of the World - Home
Telling a history of our world through objects Click on the titles in the blue bar below [Location, Theme, Contributor Type, etc.] and then choose a category to see a list of objects - e.g. click Theme and then click War. (All objects have been classified by their contributor.) You can also chose to see objects from a particular time period by clicking on the dates in the box below.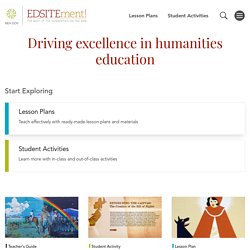 "Shakespeare Uncovered" in the Classroom "Shakespeare Uncovered" is a six-part PBS series featuring celebrated actors and directors exploring the back stories behind his most famous plays. This guide helps teachers navigate the series website and offers ideas to integrate the series into a high school classroom setting. The guide links to full videos of each episode as well as lesson plans, play maps, character quiz and other educational resources.