Crafts
A Dress A Day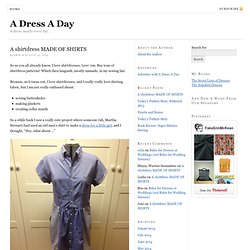 My company party was last night and I made a new dress for it: The bodice is good ol' 1577 again, and the skirt is adapted from Advance 2751. The fabric is a bronzy-coppery coated poly denim, which I don't think I would have ever picked up except that it was on super-super-sale at Fabric Outlet in the Mission last week, and because I already bought this other laminated denim I didn't know what to do with, so I thought I could kill two birds with one stone and have both a wearable party dress AND a muslin. Woot!
For Easter I made papier-mache polka dotted eggs. I created them using small water balloons and tissue paper then I filled them with candy and toys and sealed them shut. The egg can hold a surprising amount of candy and the tissue paper seems delicate making for a delightfully heavy and yet fragile object, much like real egg. Also like a real egg you have to break the shell to get at what's inside. I like things you have to destroy to open. You'll need: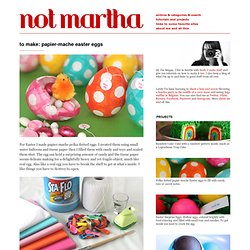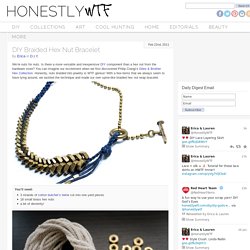 We're nuts for nuts. Is there a more versatile and inexpensive DIY component than a hex nut from the hardware store? You can imagine our excitement when we first discovered Philip Crangi's Giles & Brother Hex Collection. Honestly, nuts braided into jewelry is WTF genius! With a few items that we always seem to have lying around, we tackled the technique and made our own spine-like braided hex nut wrap bracelet.
DIY Hex Bolt Bracelet | contagious.inspiration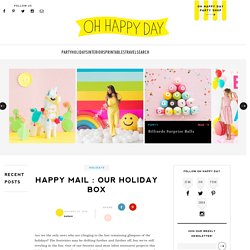 Apr 10 You Can't Always Get What You Want I almost titled this "Stop adding this stuff to your cart Jordan, you can't ever have it." We are starting to actually decorate the house (way more fun than redoing the electrical!) But lately I've found that I'll narrow down my lighting options for the dining room and realize none of the tabs open in my browser cost less than $9000. Since when did my taste get so expensive?
Homemade & Happy | Creativity, Simple Living & Other Good Things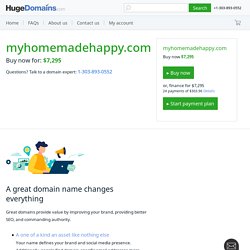 Blogging is habitual, isn't it? I find I'm either in the habit of blogging often, or I'm out of the habit. And when I'm out of the habit it seems the days roll along and I wonder what on earth I've got to say in a blog post, and then I find myself not posting. Is this how it is with you? Lately I'm more in the habit of Instagram.
Scription
It is time for the release of the next 6 months' worth of Chronodex! In 2011, my family received thousands of prayers for my father's condition, it was a lot of positive and calming energy and I still appreciate many of your kind messages to this date. Chronodex as a creative tool was shared to make a difference in traditional and limiting grid-style scheduling. It was also shared to elevate positive energy for myself and my family.