WebGL
CopperLicht - JavaScript 3D Engine using WebGL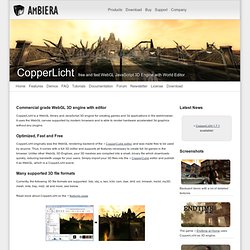 Commercial grade WebGL 3D engine with editor CopperLicht is a WebGL library and JavaScript 3D engine for creating games and 3d applications in the webbrowser. It uses the WebGL canvas supported by modern browsers and is able to render hardware accelerated 3d graphics without any plugins. Optimized, Fast and Free CopperLicht originally was the WebGL rendering backend of the CopperCube editor, and was made free to be used by anyone.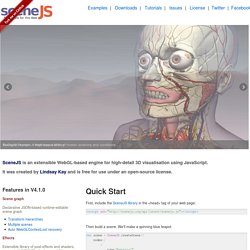 Quick Start First, include the SceneJS library in the <head> tag of your web page: Then build a scene. We'll make a spinning blue teapot:
Variance shadow maps in WebGL February 14th, 2012 Originally soft shadows in GLGE where implemented using PCF (Percentage Closer Filter) but the results were generally noisy and/or slow. As a result I thought I'd try implementing variance shadow maps in webgl. This technique is commonly used for soft shadows and has greatly improved the quality of shadows produced by GLGE.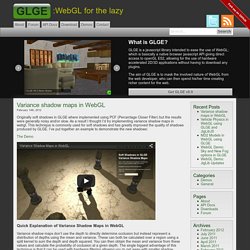 For those who do not know, WebGLU is a development framework for building applications with WebGL. For the past several months I have been working on various internal improvements to WebGLU. One of the most significant improvements I've made is the introduction of a materials system.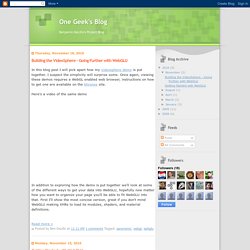 One Geek's Blog
EnergizeGL
three.js
SpiderGL - Home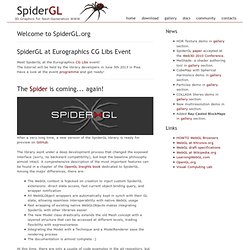 Welcome to SpiderGL.org SpiderGL at Eurographics CG Libs Event Meet SpiderGL at the Eurographics CG Libs event! The tutorial will be held by the library developers in June 5th 2013 in Pisa. Have a look at the event programme and get ready! The Spider is coming... again!
WebGL around the net, 8 April 2014 April 8th, 2014No Comments A fresh crop of development tools leads this week's WebGL headlines. CL3VER is a cloud-based 3D engine in HTML5 and WebGL to create and publish interactive 3D scenes on web and mobile. They recently released the latest version of the product, which includes a free way for architects to publish designs and presentations to their clients.The team at Clara.io has some great new samples to check out: http://clara.io/?