Law/Legal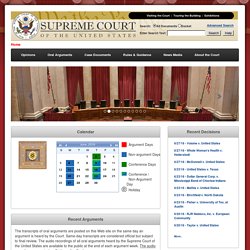 What's New The Chief Justice's 2013 Year-End Report. A new exhibition, Capturing Justice: Judicial Portraits by Augustus Saint-Gaudens, has been installed on the ground floor. The Court has adopted a revised version of the Rules of the Court to take effect July 1, 2013.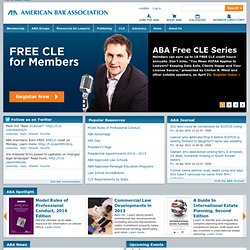 ABA Business Law Section honors Judge Jean FitzSimon with Jean Allard Glass Cutter Award April 18 - The American Bar Association Business Law Section recently honored Judge Jean FitzSimon, a U.S. bankruptcy judge for the Eastern District of Pennsylvania, with the Jean Allard Glass Cutter Award, which recognizes an exceptional female business lawyer who has made significant contributions to the legal profession and the section.Read more of this ABA News Release ... ABA meeting serves as one-stop source for information on emerging legal trends April 17 - Attorneys at all levels of practice will gather to exchange ideas with some of the most successful professionals in the legal industry at the first-ever American Bar Association Joint Spring Meeting on nontraditional delivery of legal services May 1-3 in Las Vegas.Read more of this ABA News Release ... New ABA mobile app helps with health care advanced directives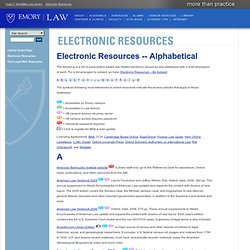 The following is a list of subscription-based law related electronic resources and databases with a brief description of each. For a list arranged by subject, go here: Electronic Resources -- By Subject The symbols following most references to online resources indicate the access policies that apply to those databases: = Accessible on Emory campus = Accessible in Law School = Off-campus access via proxy server
Emory Law: Electronic Resources
The Guide to Law Online, prepared by the Law Library of Congress Public Services Division, is an annotated guide to sources of information on government and law available online. It includes selected links to useful and reliable sites for legal information. The Guide to Law Online is an annotated compendium of Internet links; a portal of Internet sources of interest to legal researchers. Although the Guide is selective, inclusion of a site by no means constitutes endorsement by the Law Library of Congress.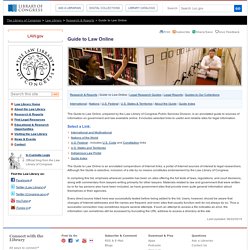 Guide to Law Online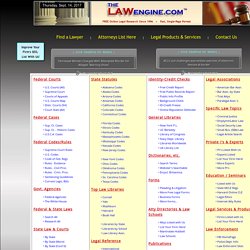 The Law Engine!
Our free law site provides legal news, legal research sources, law cases, federal law, state law, other legal sites for lawyers and other legal professionals. If you need a fast view for finding your state's laws, or a lawyer or attorney in your area, The Law Engine! can help! Our legal research law site was one of the first online sites offering free legal research and law can legal case links. Most legal research law sites are subscription and not free. That's why The Law Engine!
Jump to navigation Search Cornell About LII / Get the law / Lawyer Directory / Get Legal Forms / Legal Encyclopedia / Help Out Welcome to LII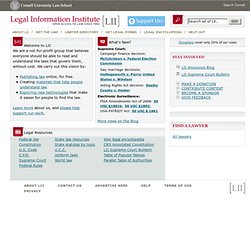 Lawyers Find A Lawyer, Law Firm, Attorney & Legal Services: martindale