Law/Legal
Supreme Court of the United States. American Bar Association. Emory Law: Electronic Resources. The following is a list of subscription-based law related electronic resources and databases with a brief description of each.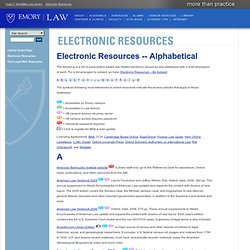 For a list arranged by subject, go here: Electronic Resources -- By Subject The symbols following most references to online resources indicate the access policies that apply to those databases: = Accessible on Emory campus = Accessible in Law School = Off-campus access via proxy server. FindLaw. Guide to Law Online.
The Guide to Law Online, prepared by the Law Library of Congress Public Services Division, is an annotated guide to sources of information on government and law available online.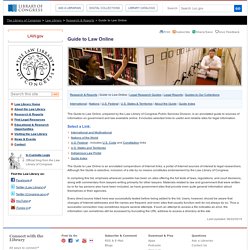 It includes selected links to useful and reliable sites for legal information. The Guide to Law Online is an annotated compendium of Internet links; a portal of Internet sources of interest to legal researchers. Although the Guide is selective, inclusion of a site by no means constitutes endorsement by the Law Library of Congress. The Law Engine!
LII. Lawyers Find A Lawyer, Law Firm, Attorney & Legal Services: martindale.
---