Law/Legal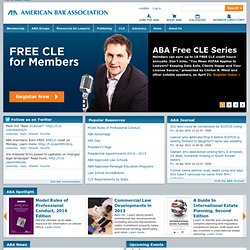 Justice Department nominee should be praised, not criticized, for death penalty representation, ABA says Jan. 13 - In a letter to the Senate Judiciary Committee, American Bar Association President James R. Silkenat spoke out against recent criticism of Debo Adegbile, nominee for assistant attorney general for the Justice Department's Civil Rights Division, for his efforts to protect the fundamental constitutional rights of his client.Read more of this ABA News Release ... Rep. King at ABA event: NSA is not the enemy Jan. 10 - At an American Bar Association program on counterterrorism and privacy, U.S.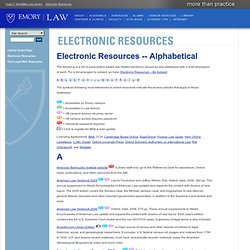 The following is a list of subscription-based law related electronic resources and databases with a brief description of each. For a list arranged by subject, go here: Electronic Resources -- By Subject The symbols following most references to online resources indicate the access policies that apply to those databases: = Accessible on Emory campus = Accessible in Law School = Off-campus access via proxy server
Emory Law: Electronic Resources
The Guide to Law Online, prepared by the Law Library of Congress Public Services Division, is an annotated guide to sources of information on government and law available online. It includes selected links to useful and reliable sites for legal information. The Guide to Law Online is an annotated compendium of Internet links; a portal of Internet sources of interest to legal researchers. Although the Guide is selective, inclusion of a site by no means constitutes endorsement by the Law Library of Congress.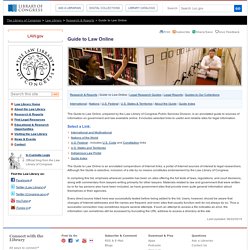 Guide to Law Online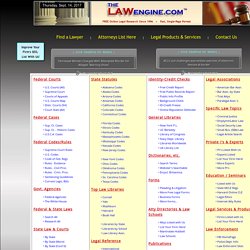 The Law Engine!
Our free law site provides legal news, legal research sources, law cases, federal law, state law, other legal sites for lawyers and other legal professionals. If you need a fast view for finding your state's laws, or a lawyer or attorney in your area, The Law Engine! can help! Our legal research law site was one of the first online sites offering free legal research and law can legal case links. Most legal research law sites are subscription and not free. That's why The Law Engine!
Jump to navigation Search Cornell About us / Get the law / Lawyer directory / Law dictionary / Help Out Welcome to LII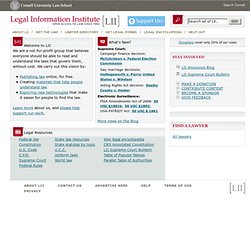 Lawyers Find A Lawyer, Law Firm, Attorney & Legal Services: martindale