Arts and crafts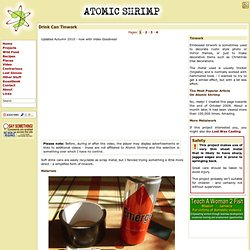 Tinwork Embossed tinwork is sometimes used to decorate rustic style photo or mirror frames, or just to make decorative items such as Christmas tree decorations. The metal used is usually thicker (tinplate) and is normally worked with hammered tools - I wanted to try to get a similar effect, but with a bit less effort. The Most Popular ArticleOn Atomic Shrimp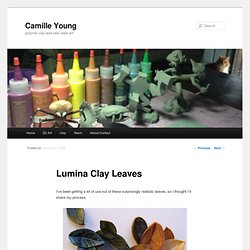 I've been getting a lot of use out of these surprisingly realistic leaves, so I thought I'd share my process. I begin by mixing some acrylic paint into a little Lumina clay. I've been going for realism lately, but any color works well. I then roll the clay through a pasta machine at thickness setting 4-5. If you're going to be using a leaf with thick veins, you'll want to use setting 3-4.
Lumina Clay Leaves at Camille Young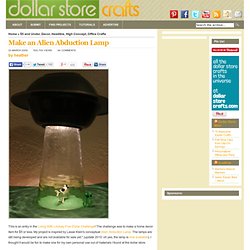 This is an entry in the Living With Lindsay Five Dollar Challenge! The challenge was to make a home decor item for $5 or less. My project is inspired by Lasse Klein's conceptual Alien Abduction Lamp. The lamps are still being developed and are not available for sale yet.* (update 2010: oh yes, the lamp is now available). I thought it would be fun to make one for my own personal use out of materials I found at the dollar store.
For a natural alternative to wallpaper or poster glue, consider using wheat paste. This clear, permanent adhesive is used by artists and decorators and is simple to make.See Transcript Hi, Lea Elleseff here and today on About.com I'm going to teach you how to make wheat paste, a clear and permanent adhesive.
Wheat Paste Recipe - How to Make and Use Wheat Paste Video