Vidéos stupides
Et la Palme d'Or du nanar est attribuée à… | Tracks | Culture. Patrick Sebastien vs Foo Fighters, les Sardines. Tania suckin arctic monkeys. Plus belle la vie : Morpeug. A 2.5 Year-Old Has A First Encounter with An iPad. Poursuivi par un meurtrier armé d'une cuillère.
C'ETAIT LE BON TEMPS. Moundir, l'aventurier de l'amour et du verbe, la suite... - une. Google Street Car en Allemagne. Il se venge en faisant croire à son ex-copine qu'il a gagné au L. The A-Team Debut Movie Trailer. Blague papa fille flamby. Lancer d''enclume à l'explosif. Ils y ont cru < Vidéos Automoto [Evilox] GOOD: Oil Addiction. Couille-Bleu -- Extreme movies. Journaliste a de gros problèmes gastriques en pleine interview. World Record Trampoline Jump. Conférence de Dali à Polytechnique, vidéo Conférence. Crying Wife videos. Meuporg, tu connais ? ( remix ) FAIL ! Télé Matin sur France 2 vous présente MEUPORG.com ! Le poisson d'avril d'un prof de maths - Les Perles du Net. Vidéo: un abattoir Charal vu de l'intérieur... - Animal et Ethiq. Près de chez moi 28/08/2009 à 16h21 - mis à jour le 28/08/2009 à 21h57 | vues | réactions Charal se vante d'avoir donné un nom à la viande et bien voici maintenant qu'elle a un visage, le vrai visage de la viande.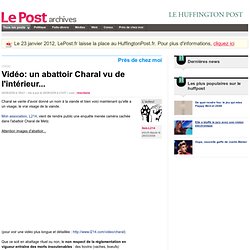 Mon association, L214, vient de rendre public une enquête menée caméra cachée dans l'abattoir Charal de Metz. Attention images d'abattoir... (pour voir une vidéo plus longue et détaillée : Royal Fuhrer. DAN the MAN. France 2 - télématin - MMORPG. Monsieur Manatane. Octopus Steals Camera, Swims Away, Directs First Film. Photographer Victor Huang was diving off Wellington, New Zealand recently when an octopus snatched his video camera and swam off with it while it was filming.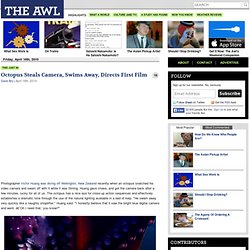 Huang gave chase, and got the camera back after a few minutes, lucky for all of us. The octopus has a nice eye for close-up action sequences and effectively establishes a dramatic tone through the use of the natural lighting available in a bed of kelp. "He swam away very quickly like a naughty shoplifter," Huang said: "I honestly believe that it saw the bright blue digital camera and went, 'Oh I need that,' you know? " We really, really do. Cranbrook Deer. First-Person Tetris. FAIL ! Télé Matin sur France 2 vous présente MEUPORG.com ! Zappons les OGM ! LES INCONNUS LES SECTES SKIPPY LE GRAND GOUROU CLIP HUMOUR F - u.
---