Blogs étonnants
BADABOUM, éco-journal gouvernemental interrégional, 1ère édi - u
4chan is a simple image-based bulletin board where anyone can post comments and share images. There are boards dedicated to a variety of topics, from Japanese animation and culture to videogames, music, and photography. Users do not need to register an account before participating in the community. Feel free to click on a board that interests you and jump right in!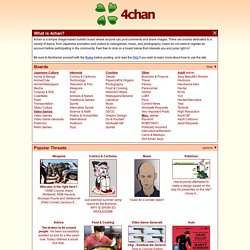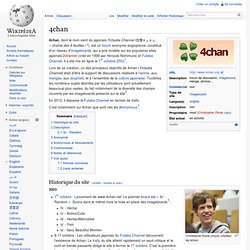 Un article de Wikipédia, l'encyclopédie libre. Lors de sa création, un des principaux objectifs de 4chan (Yotsuba Channel) était d'être le support de discussions relatives à l'anime, aux mangas, aux doujinshi, et à l'ensemble de la culture japonaise. Toutefois les nombreux sujets abordés par les utilisateurs sont actuellement beaucoup plus vastes, du fait notamment de la diversité des champs couverts par les imageboards présents sur le site[2]. En 2012, il dépasse le Futaba Channel en termes de trafic.
4chan
.chez kek.
Saturday, 13. February 2010 The Origins Of Myths And Superstitions TimelessMyths was formed to offer a unique reference point on old urban myths, legends & tales. Ancient gods, elusive monsters, bad luck and roach eggs in envelope glue; what do all of these things have in common? All of them have a basis in stories that are part myth, part legend, and in some cases part truth.
~~~~~ The Esoteric Blog: Ursi's Eso Garden ~~~~~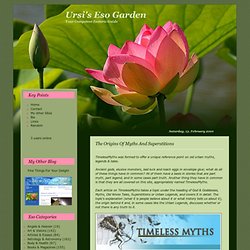 octobre 11th, 2012 · 19 Commentaires · Société Rolland Courbis est sans aucune forme possible de doute l'un des personnages les plus connus et atypiques du football en France, une discipline ravagée par ce mal contemporain qui veut que la parole soit diluée dans des discours insipides. Dans ce milieu où les mots débités finissent par n'exprimer aucune substance, Courbis détonne, répond sans détour et se pose en archétype du mec fort en gueule qui se fout royalement du qu'en-dira-t-on. Sa science du bon mot et ses qualités de tacticien plus doué que la moyenne en ont d'ailleurs fait un excellent client de la société du spectacle, qui depuis bientôt quinze ans – de Canal + à France 2 en passant par RMC et BFM TV aujourd'hui – n'a plus su se passer de ses services. Mais comme tout personnage hors du commun, Rolland le minot des quartiers nord de Marseille traîne aussi sa part d'ombre.