Articles
Leet. One way to write the word "Wikipedia" in Leet Leet (or "1337"), also known as eleet or leetspeak, is an alternative alphabet for the English language that is used primarily on the Internet.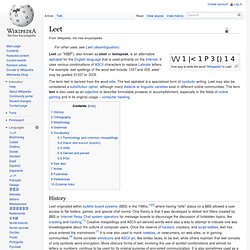 It uses various combinations of ASCII characters to replace Latinate letters. For example, leet spellings of the word leet include 1337 and l33t; eleet may be spelled 31337 or 3l33t. History Leet symbols, especially the number 1337, are Internet memes that have spilled over into popular culture. Le rendez-vous des amateurs de bieres belges. Comment Groland recrute ses vieux Grolandais. Groland, cette charmante « présipauté » se donnant à voir chaque semaine sur Canal+, Michael Kael et Jules-Edouard Moustic la parcourent et nous la font découvrir depuis plus de quinze ans maintenant.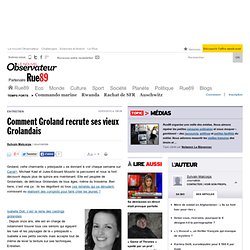 Elle est peuplée de Grolandais, de délicieux Grolandais de tous âges, même du troisième. Ben tiens, c'est vrai ça : ils les dégottent où tous ces retraités qui se dénudent, vomissent ou réalisent des complots pour faire chier les jeunes ? Isabelle Doll, c'est la reine des castings grolandais . Unreal hormones: males treat games as social competitions. The next time your girlfriend, wife, or mother complains about all the time you spend playing PS3 or online games, you can tell her that your attraction to video games may actually be a by-product of evolution.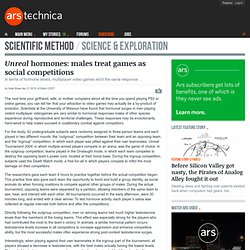 Scientists at the University of Missouri have found that hormonal surges in men playing violent multiplayer videogames are very similar to hormonal responses males of other species experience during reproductive and territorial challenges. These responses may be evolutionarily hard-wired to help males succeed in coalitionary combat against competitors. For the study, 42 undergraduate subjects were randomly assigned to three-person teams and each played in two different rounds: the "outgroup" competition between their team and an opposing team, and the "ingroup" competition, in which each player was pitted against their own teammates.
Unreal Tournament 2004, in which multiple armed players compete in an arena, was the game of choice. 1 000€ d'amende requis pour avoir déféqué dans la salade au rest. Un homme de 35 ans comparaissait mercredi soir devant le tribunal correctionnel de Lorient pour falsification de denrée alimentaire.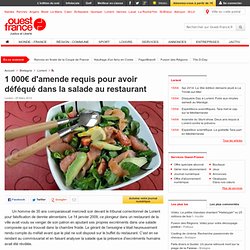 Le 14 janvier 2009, ce plongeur dans un restaurant de la ville avait voulu se venger de son patron en ajoutant ses propres excréments dans une salade composée qui se trouvait dans la chambre froide. Le gérant de l'enseigne s'était heureusement rendu compte du méfait avant que le plat ne soit disposé sur le buffet du restaurant. C'est en se rendant au commissariat et en faisant analyser la salade que la présence d'excréments humains avait été révélée. Dinner and a Murder Mystery Games Complete Party Kits.
Préhistoire sous tous ses aspects.
---