Steady
3 PRO Ultimate. DIY SteadiCam. Server Default page If you see this page it means: 1. hosting for this domain is not configured.
How to Make a DIY Camera Stabilizer Video. HD-Series. Award-winning products Pictured above is the Glidecam HD-1000, HD-2000 and HD-4000.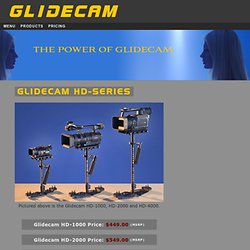 Glidecam HD-1000 Price: $449.00 (MSRP) View topic - My Flying Set-Up: Glidecam HD-4000 + Steadicam Merlin Vest. Canon T2i No Shaky Video Camera Stabilizer.
---