Haptomcgee
Hapto McGee
(99) Brian Collins - Messages
44 Resume Writing Tips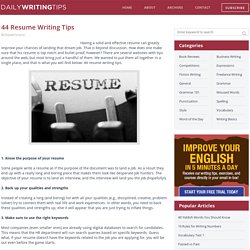 by Daniel Scocco
_m22l792hRR1qhw4wvo1_500.jpg (JPEG Image, 500 × 375 pixels)
Notes about building for Burning Man and other Projects, by Bob StahlAlso see: Rebar & Rigging FAQ | Field Manuals | DPW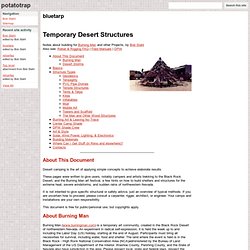 bluetarp - potatotrap
Glenna Gordon
Journalists, researchers and mental health professionals offer advice on how to deal with people caught up in tragic events. Whether you're new to reporting traumatic news or simply feel you've more to learn about such assignments, these tips, drawn from journalists, journalism researchers and health professionals in Australia and around the world, can help you. People who have experienced deep trauma or who have lost someone close in sudden, violent circumstances have a right to decline being interviewed, photographed or filmed and news media, and their newsrooms, need to respect that right. Exercise the principle of doing no further harm.Above all, be accurate and do not feign compassion.
Working With Victims and Survivors | Dart Center for Journalism & Trauma
Graduate school & the development industry « Rachel Strohm
(Update, 8 January: Hi MR readers! Thanks for stopping by; I'd welcome your thoughts. I should add that this post isn't meant exclusively as a critique of SAIS, but as a representative experience of many of the schools that offer MAs in development.)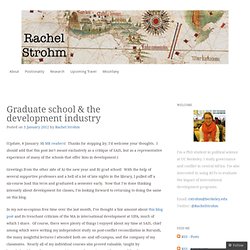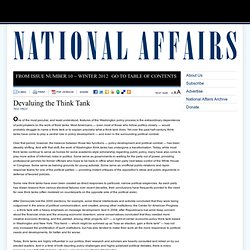 One of the most peculiar, and least understood, features of the Washington policy process is the extraordinary dependence of policymakers on the work of think tanks. Most Americans — even most of those who follow politics closely — would probably struggle to name a think tank or to explain precisely what a think tank does.
Devaluing the Think Tank > Publications > National Affairs
Notes from the field: the usefulness of early workshops | News, views, methods, and insights from the world of impact evaluation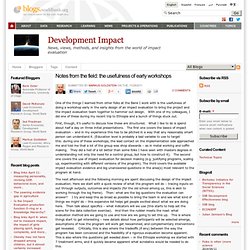 One of the things I learned from other folks at the Bank I work with is the usefulness of doing a workshop early in the early design of an impact evaluation to bring the project and the impact evaluation team together to hammer out design.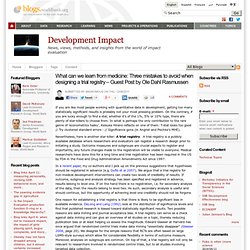 If you are like most people working with quantitative data in development, getting too many statistically significant results is probably not your most pressing problem. On the contrary, if you are lucky enough to find a star, whether it's of the 1%, 5% or 10% type, there are plenty of star-killers to choose from.
What can we learn from medicine: Three mistakes to avoid when designing a trial registry – Guest Post by Ole Dahl Rasmussen | News, views, methods, and insights from the world of impact evaluation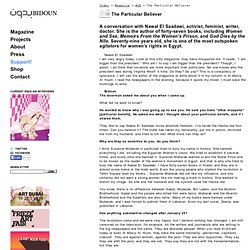 The Particular Believer | Bidoun Projects
A conversation with Nawal El Saadawi, activist, feminist, writer, doctor. She is the author of forty-seven books, including Women and Sex, Memoirs From the Women's Prison, and God Dies by the Nile.
Reasons abound to be turned off by the New York Times columnist, Nicholas Kristof. He is too pleased with himself and demonstrates no capacity for self-reflection.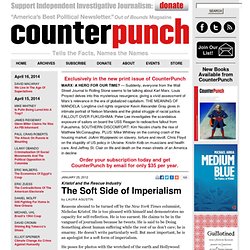 The Soft Side of Imperialism
Seven Deadly Sins of Impact Evaluation
Seven obstacles to making good decisions about impact evaluations and how to avoid them.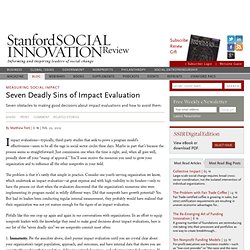 Who is Dr. Kurtz?
It's been a while this "electronic newsletter" going - so long that I have lost count of all the interns that passed through and learned the ropes under my visionary leadership. I have also had my share of constructive feedback, which I duly "actionized" using the appropuiate tool-kit, in order to become a better person:
Graduate Study | Study in the UK | US-UK Fulbright Commission
Follow our Twitter feeds @USUKFulbrightCommission-wide, scholar & alumni news @USAStudyAdvice US study advising tips and events @FulbrightAwardsFulbright Awards updates and application tips Next Steps US Fulbright Awards »
US Awards Programme
FUN… By Design
Organizational Development
Constraintstorming
Recently, I lead a project that included "designing the future of X". Any time you have these kinds of projects, the sky can be the limit. But, without limits, the chances of success are often low. Our first step was to conduct a brainstorming session.
CogNexus Institute brochure
2011 - Saturday Workshop - Career Workshop II: Founder's Dilemmas in Social Entrepreneurship on Vimeo
2011 - Saturday Workshop - Career Workshop I: Discovering a Career in Social Enterprise on Vimeo
2011 - Saturday Workshop - Fundraising for Social Enterprises I: Writing Effective Grants on Vimeo
2011 - Saturday Workshop - Fundraising for Social Enterprises II: Business Plans and Other Essentials on Vimeo
Home
Social Research Methods
IDPM publications (School of Environment and Development - The University of Manchester)
Research is central to IDPM's mission to raise the capabilities of individuals and organisations in developing countries. In the Research Assessment Exercise 2008, a periodic government review of the quality of research in UK universities, 65% of IDPM's research was assessed as 'world-class', and in significant areas was viewed as 'world-leading'. This means that not only is IDPM contributing at a global level to debates about poverty and development, but in some areas is setting the pace.
IDPM Research (School of environment and Development - The University of Manchester)
DEPP Working Paper No 21 - A Gendered Analysis of 'Time Poverty': The Importance of Infrastructure (School of Environment and Development - The University of Manchester)
This Working Paper is part of the Development Economics and Public Policy series