Recipes
Welcome
Felicia Sullivan - Author, Foodie, Rockstar » » Blog Archive » bake this now. like right now: chocolate chip nutella cookies
Much how we can all agree that everything is better with bacon, who can deny the power of Nutella? When baking, it always amazes me how one simple ingredient can dramatically alter a cookie's flavor. It's a chrysalis of sorts, bearing witness to a magical transformation. Who knew that your basic chewy chocolate chip cookie would morph into a sliver of heaven? I love how the Nutella imbued the batter with a depth, a warmth, a nuttiness that I haven't been able to replicate with the foxiest of nuts (A WOMAN IS MAD FOR THE PISTACHIO!!!). So if you want to wow the crowd, I definitely encourage you to whip up these easy treats; I was pretty pleased that they were scooped up during my team clothing swap yesterday.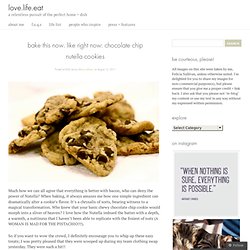 Recipe: Macaroni and Cauliflower Cheese Bake :: Jamie Oliver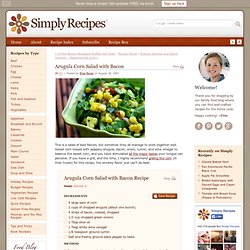 Method 1 Cook the corn ears, in their husks, either on the grill for a smokey flavor, or by steaming in a large covered stock pot with an inch of boiling water at the bottom of the pot, for 12-15 minutes. Let the corn cool (can run under cold water to speed up the cooling), remove the husks and silk. I recommend cooking the corn in the husks for the added flavor that the husks impart.
Arugula Corn Salad with Bacon
Ice Cream Recipes
EPICURIOUS_ THE WORLD'S GREATEST RECIPE COLLECTION
Apple Pound Cake Recipe : Sunny Anderson
The Ultimate Family Food: Easy & Healthy Kale and Walnut Pesto | The Family Kitchen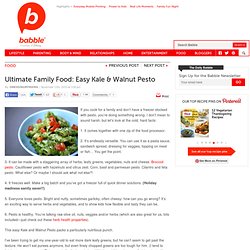 If you cook for a family and don't have a freezer stocked with pesto, you're doing something wrong. I don't mean to sound harsh, but let's look at the cold, hard facts: 1.
Wednesday, December 8, 2010 Recently I have fallen into a menu funk. I have been making the same few things over and over again. One of those things, what I now refer to as my refrigerator concoction, is a meal I replicated after going to lunch at a local Mexican fast food place. I tried their chicken burrito served over lettuce.
Fire Roasted Pepper & Feta Quinoa Salad | La Phemme Phoodie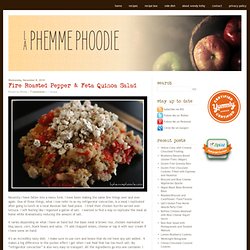 November 12th, 2010 I got hardcore on The Family Kitchen today. I put y'all in your place. At least all of you family cooks who don't make pesto as part of your regular routine.
Ultimate Family Food: Easy, Nutritious Kale and Walnut Pesto | One Hungry Mama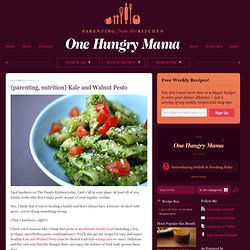 January 11th, 2011 I used to say that I don't like soup. No joke.
Escarole, White Bean & Meatball Soup | One Hungry Mama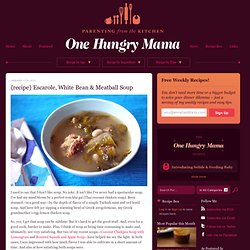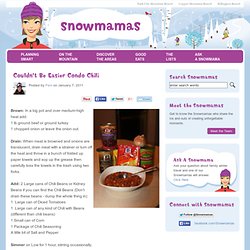 Posted by Pam on January 7, 2011 Brown: In a big pot and over medium-high heat add:1 lb ground beef or ground turkey1 chopped onion or leave the onion out Drain: When meat is browned and onions are translucent, drain meat with a strainer or turn off the heat and throw in a bunch of folded up paper towels and sop up the grease then carefully toss the towels in the trash using two forks. Add: 2 Large cans of Chili Beans or Kidney Beans if you can find the Chili Beans (Don't drain these beans - dump the whole thing in)1 Large can of Diced Tomatoes1 Large can of any kind of Chili with Beans (different than chili beans)1 Small can of Corn1 Package of Chili SeasoningA little bit of Salt and Pepper Simmer on Low for 1 hour, stirring occasionally.
Couldn't Be Easier Condo Chili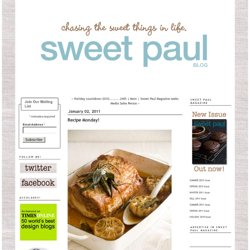 Welcome back everyone. I hope you all had a great holiday and an even better new year. Hope it will be a great year for all of us. Here in Brooklyn we had some crazy days of snow. It was like my childhoods Norway.
Recipe Monday!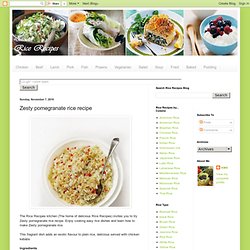 The Rice Recipes kitchen (The home of delicious Rice Recipes) invites you to try Zesty pomegranate rice recipe. Enjoy cooking easy rice dishes and learn how to make Zesty pomegranate rice. This fragrant dish adds an exotic flavour to plain rice, delicious served with chicken kebabs
Zesty pomegranate rice recipe
Nourishing Eggnog
I have loved eggnog since I first tasted it as a small child. The presence of eggnog always heralded the beginning of the holidays. This recipe is simple and delicious-- just my style! When using raw eggs in a recipe it is important to ensure they are pasture-raised to decrease risk of contamination. Pasture-raised eggs and raw milk can be found at your local health food store or through a CSA.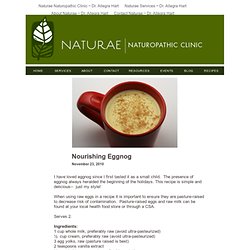 coconut brown rice
Roasted Cauliflower Gorgonzola Bisque | Wegmans
Honest Fare
Rice pudding with a generous dose of cinnamon on top has always been one of my favorite desserts. There's really nothing like it for me. Growing up, my mom would say something like, "Guess what we have for dessert," in this sort of secretive voice and then we'd get all giddy.
http://www.mothering.com/recipes/slow-cooker-chicken-taco-soup
A one pot, slowcooker dish, this one is a family-pleaser. Serve with a vegetable salad for a complete meal. 1 onion, chopped 1 (16 ounce) can chili beans 1 (15 ounce) can black beans
tangy spiced brisket
So this year? It's been fulla brisket. It started at New Years, with the Southwestern Pulled Brisket that made me a brisket person. And also a slow-cooker person.
It's August. That sticky month where summer exhales in a warm breath on your neck, smelling of freshly mowed grass and rich dark compost. Normally I'd be writing about the latest backyard barbecue or late night canning session, but this summer is scripted completely differently than the last, oh, thirty-four or so. Social events, garden work and home preserving have taken a backseat to my latest occupation: book writing. I've been so busy and completely immersed in this project, that I've neglected to share with you just exactly what ate up part of June and most of July.
Under the High Chair
http://www.mothering.com/recipes/fruity-brown-rice-salad
with such an early hot summer this year, the tomatoes at the market have already been full of delicious flavor! here's a simple tomato tart that makes a great lunch or dinner with some fresh greens on the side and a cold glass of white wine. lots of new work to share with you soon. we've both been busy working for great clients like People, Food Network, Reader's Digest, La Cucina Italiana and more. we'll post some pics later this week but check out the july/aug Food Network mag for Andrew's cover and a beautiful feature on cherries!
pictures and pancakes
Whole-Wheat Pasta Salad with Beets BY Carrie Purcell. - Nourish - Mindful Mama
happylady
10 Great Summer Salads & Slaws - 10 Perfect Summer Salads & Slaws
stephmodo
smitten kitchen
the simple me
Tamra Davis Cooking Show
Heart of Light
MattBites
Home of teresa green - hand printed textiles, bedding, towels bags and childrens
Cocktail Times