Happycat
The Importance of Eyebrows: How Well-Defined Brows Change the Look of Your Face. Until recently I never really understood all the hoopla about eyebrows.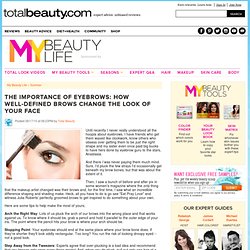 I have friends who get them waxed like clockwork, know others who obsess over getting them to be just the right shape and my sister even once paid big bucks to have hers done by eyebrow guru to the stars, Anastasia. And there I was never paying them much mind.
Interesting STUFF
Internet marketing. Family violence. Vegetarian. Video games & legislation. Interesting people. ABC Services - Newsletters. Bookmarks. Job & interview stuff. Sustainable energy course. Google searches key words. Champix etc. Quit onQ. Resources : medical journals. Depression & bipolar. Cholesterol & related. Pearltrees. Pearltrees videos. Buddhist and psychotherapeutic views on gaining insight into the nature of mind, Wisdom and Compassion Conference 2001 for Ordinary Mind - An Australian Buddhist Review Issue No 21. Help.
---