VST/VSti
Vst. Ardour | the new digital audio workstation. Magesy.eu. AlgoMusic Atomic v1.0 VSTi. Atomic is a 16 step sequencer composing tool with a built in synth.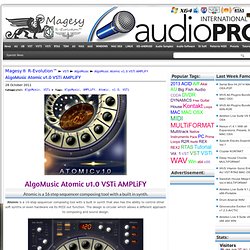 Atomic is a 16-step sequencer composing tool with a built in synth that also has the ability to control other soft synths or even hardware via its MIDI out function. The design is circular which allows a different approach to composing and sound design. Inspired by circular step sequencers such as the Buchla Arbitrary Function Generator and Future Retro Revolution. Dedicated to Electronic Music pioneer Allen Strange (1943-2008). More Info | Demos. QuikQuak MashTactic v1.01 PC VST v1.00 AU MAC OSX. NEMESiS / iND | PC (x86/x64): 1.62MB | MAC: 2.85MB MashTactic was initially designed as a mashup tool.
It can separate different parts of a full mix, manipulating different frequencies and stereo location. Up to eight zones can be created that can then be panned, emphasised or cut out completely. It can be viewed as an eight band filter that exists in stereo ranges as well as frequency. Transients of varying length can be separated from constant sounds, which allows the user to manipulate the initial punch of percussion, either by emphasising or softening the attack, this can be done separately in any of the eight zones.
Final Cut Pro X Incl Tools & Plug-ins (2011) Final Cut Pro X Incl Tools & Plug-ins (2011) | 3.35 GB Final Cut Pro X… Completely redesigned from the ground up, Final Cut Pro adds extraordinary speed, quality, and flexibility to every part of the post-production workflow.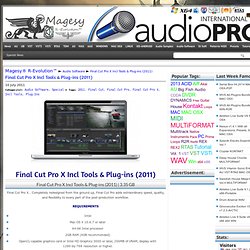 Intel Mac OS X 10.6.7 or later 64-bit Intel processor 2GB RAM (4GB recommended) OpenCL-capable graphics card or Intel HD Graphics 3000 or later, 256MB of VRAM, display with 1280-by-768 resolution or higher. Included: * Compressor 4* ProApps Codecs* FCP X Content dmg Best way to [K]: H.G. Fortune STS-33 Pro v3.3 VSTi. H.G.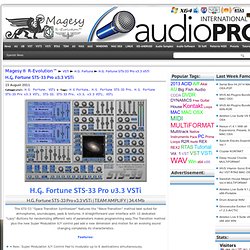 Fortune STS-33 Pro v3.3 VSTi | TEAM AMPLIFY | 34.4 Mb The STS-33 "Space Transition Synthesizer" features the "Wave-Transition" method best suited for atmospheres, soundscapes, pads & textures. Quikquak Everything Bundle VST VSTi 07 2011 x86 x64 ASSiGN. TEAM ASSiGN | 18 DECEMBER 2011 | 31.85 MB This bundle include: Barchimes , Crowd Chamber, Fusion Field , Glass Viper, MashTactic , Pitchwheel, RaySpace, UpStereo Bar chimes simulator * A detailed 36 bar kinetic physics simulation. * Gravity, collisions and audio accurately portrayed. * Velocity and sweep analysis simulates user movement through the chimes. * Parameters for physics, pitch and time. * Frequency editing with fundamentals and partials. * Percussive rendering with decay controls. * Swing modulation effects. * Photo-realistic 3D representation and collision effects Crowd Chamber.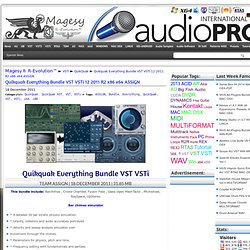 Arturia Spark STANDALONE VSTi RTAS v1.1.2 x86/x64-ASSiGN. TEAM R2R | 23.2.2014 | WiN: 716.91 MB | MAC: 1.04 GB Combining the power of analog synthesis, physical modelling and samples, through the intuitive workflow of a hardware drum machine, Spark is a highly creative beat production center.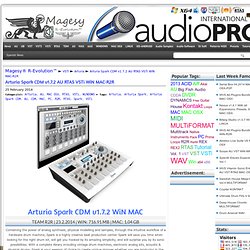 Spark will save you time when looking for the right drum kit, will get you hooked by its amazing simplicity, and will surprise you by its sonic possibilities. With a complete library including vintage drum machines, electronic analog kits, acoustic & physical drums, Spark is your weapon of choice to create unique grooves whether you are producing in the studio or performing on stage. Sonic Charge Synplant VSTi 1.01. R2R | 5.9.2012 | WiN 7.8 MB | OSX 1.6 MB Synplant is a software synthesizer with a genetic approach to sound creation.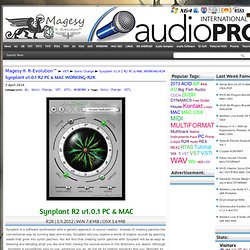 Instead of creating patches the conventional way by turning dials and knobs, Synplant lets you explore a world of organic sounds by planting seeds that grow into synth patches. You will find that creating synth patches with Synplant will be as easy as listening and deciding what you like and then having the sounds evolve in the directions you desire. Although Synplant is exceedingly easy to use, whatever you do, do not let its relative simplicity fool you. Beneath its straightforward and playful interface you will find a versatile synthesizer of the utmost quality with lots of character. ProSounds - PS-1 Performance Synthesizer v1.2 VSTi DYNAMiCS. ProSounds | VSTi | DYNAMiCS | 26.3 MB The award winning PS-1 Performance Synthesizer is the result of an exciting collaboration between ProSounds and DASH Signature and has been designed with the advanced sound designer and electronic musician in mind, incorporating a large number of high-end features while still maintaining ease of use with its intuitive user interface.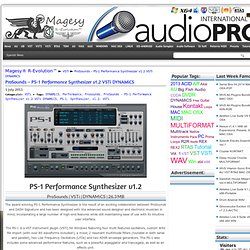 The PS-1 is a VST instrument plugin (VSTi) for Windows featuring four multi featured oscillators, custom WAV file import (with over 80 waveforms included!) , a mixer, 2 resonant multimode filters (routable in both serial and parallel), two Low Frequency Oscillators (LFOs) and two ADSR envelope generators. The PS-1 also includes some advanced performance features, such as a powerful arpeggiator and trancegate, as well as an effects unit.
---