2012 Olypics
2012 Summer Olympics. The 2012 Summer Olympics, formally the Games of the XXX Olympiad[2] and commonly known as London 2012, was a major international multi-sport event celebrated in the tradition of the Olympic Games, as governed by the International Olympic Committee (IOC).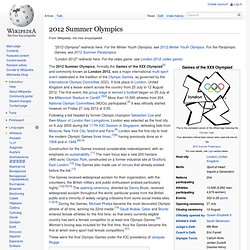 It took place in London, United Kingdom and a lesser extent across the country from 25 July to 12 August 2012. The first event, the group stage in women's football began on 25 July at the Millennium Stadium in Cardiff.[3][4] More than 10,000 athletes from 204 National Olympic Committees (NOCs) participated.[5] It was officially started however on Friday 27 July 2012 at 0:00. 2012 Olympic Games. Olympic Football. S.R.M. All sportsAll sportsAlpine SkiingAmerican footballArcheryAthleticsBadmintonBaseballBaseball-SoftballBasketballBasque PelotaBeach VolleyballBiathlonBobsleighBoxingCanoeCanoe SlalomCanoe SprintCricketCroquetCross Country SkiingCurlingCyclingCycling BMXCycling Mountain BikeCycling RoadCycling TrackDivingEquestrianEquestrian / DressageEquestrian / EventingEquestrian / JumpingEquestrian / VaultingFencingFigure skatingFootballFreestyle SkiingGolfGymnastics ArtisticGymnastics RhythmicHandballHockeyIce HockeyJeu de PaumeJudoLacrosseLugeMilitary PatrolModern PentathlonNordic CombinedPoloRacketsRink-HockeyRoqueRowingRugbySailingShootingShort Track Speed SkatingSkeletonSki JumpingSnowboardSoftballSpeed skatingSpeed skiingSquashSwimmingSynchronized SwimmingTable TennisTaekwondoTennisTrampolineTriathlonTug of WarVolleyballWater MotorsportsWater PoloWater SkiingWeightliftingWrestlingWrestling FreestyleWrestling Greco-Roman.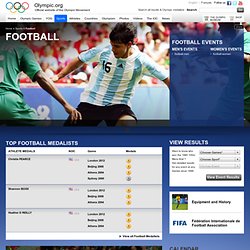 Football 2012. The association football tournament at the 2012 Summer Olympics was held from 25 July to 11 August, and was the only sport to begin before the official opening day of the Olympic Games, two days before the opening ceremony.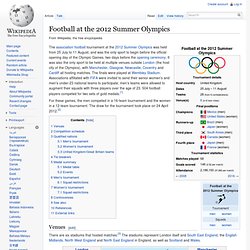 It was also the only sport to be held at multiple venues outside London (the host city of the Olympics), with Manchester, Glasgow, Newcastle, Coventry and Cardiff all hosting matches. The finals were played at Wembley Stadium. Associations affiliated with FIFA were invited to send their senior women's and men's under-23 national teams to participate; men's teams were allowed to augment their squads with three players over the age of 23. 504 football players competed for two sets of gold medals.[1] For these games, the men competed in a 16-team tournament and the women in a 12-team tournament. Olympic Soccer. Choose Event men + 100kg (heavyweight) men + 100kg (super heavyweight) men + 105kg (superheavyweight)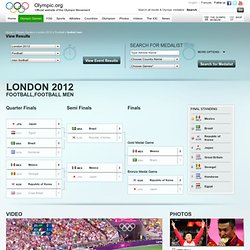 Eton Dorney - Rowing, Canoe Sprint. JanuaryJanuaryFebruaryMarchAprilMayJuneJulyAugustSeptemberOctoberNovemberDecember DecemberJanuaryFebruaryMarchAprilMayJuneJulyAugustSeptemberOctoberNovemberDecember All topicsAll topicsIOC Latest NewsVancouver 2010London 2012 NewsSOCHI 2014Museum NewsRIO 2016EducatorsHost City Election NewsTorch Relay NewsPyeongChang 2018Beijing 2008Social Media NewsOlympic Games LegacyLondon 2012 Torch RelayLondon 2012 VenuesMexico 1968Innsbruck 1976.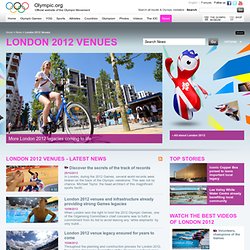 Football Tournament. Olympics Closing Ceremony. Farewell London 2012 London has handed the Olympic reins to Rio in an epic, colourful and star-studded extravaganza. 13, 2012 And that's a wrap.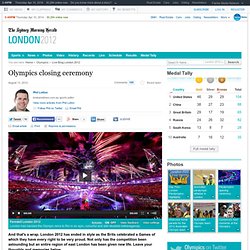 Summer Olympic Games. Alex Livesey/Getty Images The 2012 Summer Olympics will play host to some of the best soccer players and teams in the world, yet there are several teams who we wish were competing in London as well.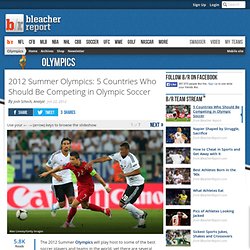 The Olympics are a young man's game, and most athlete are under the age of 30 across the Games. The soccer component will continue this trend, as each country is only allowed to have three players who were born before January 1, 1989 on their roster. Attaking Soccer. The Official 2012 Olympic Games football was released last week, four months ahead of the opening ceremony on July 27 in London.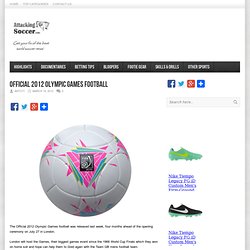 London will host the Games, their biggest games event since the 1966 World Cup Finals which they won on home soil and hope can help them to Gold again with the Team GB mens football team. The Official Adidas match ball for the Games was named "The Albert" by London organisers after the great Albert Hall located in London. The ball itself is constructed with a series of triangular panels which are enhanced with a grip texture and finished with a vibrant design which features the Official London 2012 Olympics logo.
Spanish League Fixtures. London 2012 Olympics: Football. London 2012 Olympics. Choose Event men + 100kg (heavyweight) men + 100kg (super heavyweight)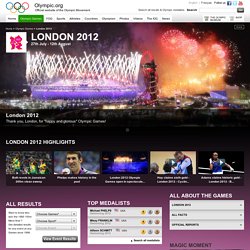 ---