1
Dutch design studio Tjep , designed some interior elements for the Fabbrica restaurant in Bergen , The Netherlands. Description from Tjep: We designed several elements for Restaurant Fabbrica in Bergen: the lovely train cabins with a new look and feel as compared to the ones we made for Fabbrica Rotterdam, a larger Pizza Oven covered with beautiful Bisazza tiles, and the very industrial wood containers that hold all the wood to fuel the oven and all the electricity to fuel the lights!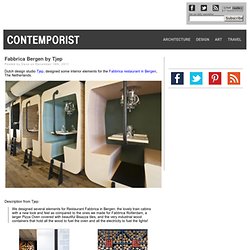 Fabbrica Bergen by Tjep
25Hours Hotel HafenCity Interior by Stephen Williams Associates
PKO Bank Polski by Robert Majkut Design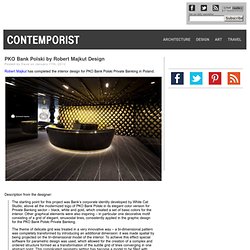 Robert Majkut has completed the interior design for PKO Bank Polski Private Banking in Poland. Description from the designer: The starting point for this project was Bank's corporate identity developed by White Cat Studio, above all the modernized logo of PKO Bank Polski in its elegant color version for Private Banking sector – black, white and gold, which created a set of basic colors for the interior. Other graphical elements were also inspiring – in particular one decorative motif consisting of a grid of elegant, sinusoidal lines, consistently applied in the graphic design for the PKO Bank Polski Private Banking. The theme of delicate grid was treated in a very innovative way – a bi-dimensional pattern was completely transformed by introducing an additional dimension: it was made spatial by being projected on the tri-dimensional model of the interior.
X3′s brand new office
Wilkinson Residence Treehouse
studio synapse: house in yonomori
first image 'house in yonomoriy' by studio synapse in tomioka, fukushima pref, japan all images courtesy studio synapse image © koichi torimura 'house in yonomori' by japanese architecture atelier studio synapse (mikiya ueki, saori ueki) is a single-storey private residence on a triangular site in tomioka, fukushima, japan. playing off the shape of the plot as a catalyst for the design, the low-lying dwelling is a composition of three box-like volumes that pivot and overlap around a central courtyard. aerial view image © koichi torimura stepping away from the plot line to create an outdoor parking space as well as a corner kitchen garden, the exterior expression is simply clad in a dark grey metallic skin. the main entrance is delineated through a large sliding glass doorway which opens on to the gravel yard. featuring gaps and angular chasms between volumes, the arrangement of the house is transparent from the street. north elevation image © koichi torimura
GP Mountain house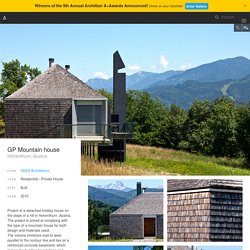 Project of a detached holiday house on the slope of a hill in Hohenthurn, Austria. The project is aimed at complying with the type of a mountain house for both design and materials used. The volume stretches east to west parallel to the contour line and lies on a reinforced concrete basement, which makes the building foundations and underground flo... read more Project of a detached holiday house on the slope of a hill in Hohenthurn, Austria.
Am Rietpark, Baufeld D
AD Round Up Special: Germany vs. Spain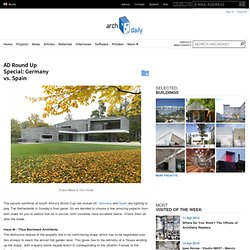 The second semifinal of South Africa's World Cup has kicked off. Germany and Spain are fighting to play The Netherlands in Sunday's final game. So we decided to choose a few amazing projects from both sides for you to realize that as in soccer, both countries have excellent teams. Check them all after the break. Haus M / Titus Bernhard Architects The distinctive feature of the property lies in its north-facing slope, which has to be negotiated over two storeys to reach the almost flat garden level.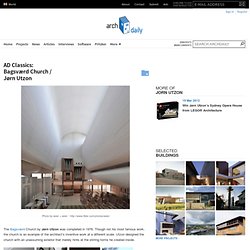 AD Classics: Bagsværd Church / Jørn Utzon
The Bagsværd Church by Jørn Utzon was completed in 1976. Though not his most famous work, the church is an example of the architect's inventive work at a different scale. Utzon designed the church with an unassuming exterior that merely hints at the stirring forms he created inside. The Bagsværd Church was Utzon's first work after returning to Denmark from Austrailia and the Sydney Opera House, which he designed.
Architects: Sou Fujimoto Architects Location: Oita, Japan Project Team: Yumiko Nogiri Structural Consultant: Jun Sato Structural Engineers Design Year: 2006-2007 Construction Year: 2007-2008 Site Area: 236,57 sqm Constructed Area: 150,57 sqm Photographer: Iwan Baan A home for two plus a dog. The house itself is comprised of three shells of progressive size nested inside one another. The outermost shell covers the entire premises, creating a covered, semi-indoor garden . Second shell encloses a limited space inside the covered outdoor space.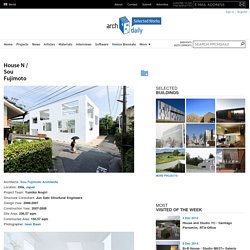 House N / Sou Fujimoto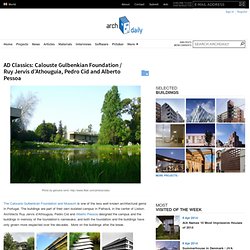 The Calouste Gulbenkian Foundation and Museum is one of the less well known architectural gems in Portugal. The buildings are part of their own isolated campus in Palhavã, in the center of Lisbon. Architects Ruy Jervis d'Athouguia , Pedro Cid and Alberto Pessoa designed the campus and the buildings in memory of the foundation's namesake, and both the foundation and the buildings have only grown more respected over the decades. More on the buildings after the break. Ruy Jervis d'Athouguia, Pedro Cid and Alberto Pessoa received the commission for the Gulbenkian Foundation and Museum after winning a competition in 1959.
AD Classics: Calouste Gulbenkian Foundation / Ruy Jervis d'Athouguia, Pedro Cid and Alberto Pessoa
EG House / Marcelo Alvarenga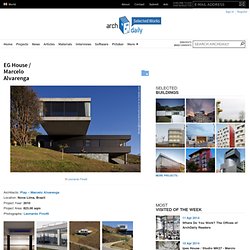 Architects: Play – Marcelo Alvarenga Location: Nova Lima , Brazil Project Year: 2010 Project Area: 823.00 sqm Photographs: Leonardo Finotti Situated on a steep slope in the outskirts of Belo Horizonte, this house was especially designed for a young family. We sought to create a building that related to the natural topography of the terrain by trying to ease the access and circulation or by proposing a better use of the external areas. To achieve this goal, the house was designed so that the terrain and surroundings can be accessed from each and every one of its floors.
first image 'hauptschule rattenberg' by daniel fügenschuh, rattenberg, austria image © christian flatscher all images courtesy christian flatscher + daniel fügenschuh austrian firm daniel fügenschuh recently completed 'hauptschule rattenberg', a secondary school extension in the historical center of rattenberg, austria. attached to a 15th century monastery, the building was originally converted into a school and gym in the 1970s. the new structure accommodates the increasing social needs and pedagogic standards to provide students with space to stay after school and get lunch. flexible plans create open zones to allow areas for alternative teaching methods. (left) front elevation (right) approach to main entrance images © christian flatscher the new structure protects the architectural heritage of the area while redefining the importance of the school within the urban context. the main part of the existing facilities within the monastery will remain untouched.
daniel fugenschuh: hauptschule rattenberg
Architects: [tp3] architekten Location: Haag am Hausruck , Austria Contractor: Genböck Gmbh Project Year: 2008 Photographs: Ulrich Kehrer These two leading themes are arranged to create a single overall structure through the symbiotic positioning of the different roof landscape. The integrated roof landscape means that at first glance it is not clear to the individual that these are actually two separate buildings, yet the roof that slopes towards the west connects the residence with the garage and therefore enables the existence of an intimate outside area in this interim zone. The ground floor is accessible directly above this zone. Although the north façade has a pitched roof, the actual separation of each design theme is highlighted by a house with a pent roof in front of the southern façade. This means that the building also looks like two different buildings from the two opposite sides.
House BFW / [tp3] architekten
Architects: Mizuishi Architects Atelier / Kota Mizuishi Location: Tokyo , Japan Structural Engineer: Kentaro Nagasaka Lighting Designer: Yasuo Tsunoda Contractor: Kraft Home Project Year: 2011 Project Area: 108.11 sqm Photographs: Courtesy of Mizuishi Architects Atelier This house was planned in the deepest part of a site, which is divided into three parts. Because it was expected that buildings would soon be constructed to the east and west of the site, I designed the house to face the directions north and south providing a light breeze and unobstructed views. The residents of the house include the husband, wife, their two little girls, two dogs, and three cats.
House with Futokoro / Mizuishi Architects Atelier
Architects: Torafu Location: Tokyo , Japan Design year: 2007 Construction year: 2008 Structure: RC Building Site: Yokohama Kanagawa Site Area: 230 sqm Constructed Area: 67.35 sqm Photographer: Daici Ano This site is located in a quiet residential region reclaimed on a hill of Yokohama. With neighboring houses lined very close together, this flag-shaped site meets a road at a verge of no more than 3 meters in width.
archdaily
Flashback: Tolo House / Alvaro Leite Siza
Architects: Alvaro Leite Siza Client: Luís Marinho Leite Barbosa da Silva Location: Lugar das Carvalhinhas – Alvite, freguesia de Cerva, Ribeira da Pena District Site Area: 1000 sqm Constructed Area: 180 sqm Contractor: Óscar Gouveia Landscape: Alvaro Leite Siza Vieira Materials: Concrete Services: GOP Project Start: 2000 Project Complete: 2005 Photographers: FG+SG – Fernando Guerra, Sergio Guerra This project is located on a site, with an area of around 1000m2, in Lugar das Carvalhinhas – Alvite, Cerva Parish, Ribeira da Pena Commune, Vila Real District. The project consists of a holiday home with three bedrooms, a social bathroom, a living room, a dinning room, a small kitchen with a support washbasin, pantry, and even a small outdoor swimming pool.
Architects: Keiji Ashizawa Design / Keiji Ashizawa, Lie Honjo, Silvia TasaniÅ Location: Chiba , Japan Structural Engineer: ÅFASA Akira Suzuki Project Year: 2007 Photographs: Daici Ano This prject is a weekend house by a riverside. The site is slanted toward the river, and the north wind peculiar to this place runs along the slope. The house is plotted parallel to the river, and the shape coming out of the slope looks like a ship waiting for the launching. Two volumes are divided into two abstracts, one as private space with child room and master bedroom and another as public space with kitchen and living room. The outside deck between the two volumes is used as an outside dining area.
Riverside House / Keiji Ashizawa Design
ON design partners: house with empty lot
bellomo architects: house arc
miurashin architect + associates: house at the mountain
Passivhaus Vogel, Mostelberg
Designing pattern schools of Olom Tahghighat Azad university
Wohnhaus Pircher, Planit C