Haleys728
Haley
Hart of Dixie Video - The Big Day. Gossip Girl Video - It Girl, Interrupted. 20 LED MINI Battery Operated Lights Cool White Bulb / Clear Wire (6.5') $6.99 each / 6 for $5.99 each. Paper Lantern Lights (for 8" -14" lanterns) Clear Bulbs 25 Sockets (12" spacing) Green Cord (28.5') $19.95 set / 3 for $18.95 set. Once upon a time episode 14. 21 Photographs And Lighting Setups For Every Occasion. It would be very pretentious of me to declare that looking at the photographs and diagrams below will teach you how to light.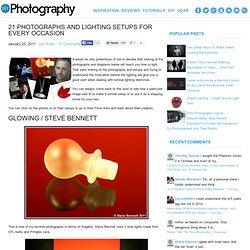 That said, looking at the photographs and setups and trying to understand the motivation behind the lighting will give you a good start when dealing with similar lighting dilemmas. You can always come back to this post to see how a particular image was lit to make a similar setup or to use it as a stepping stone for your own. You can click on the photos or on their setups to go to their Flickr links and learn about their creators. Glowing / Steve Bennett This is one of my favorite photographs in terms on frugality.
Nail Design Pictures - Creative Celebrity Nail Polish Designs. Watch Hart of Dixie - Season 1 Episode 12: Mistress & Misunderstandings. Do-it-Yourself DIY String Wedding Lanterns Yarn Chandeliers - StumbleUpon. Jessica of Wednesday Inc shows us how to make those gorgeous twine chandeliers from the inspiration shoot she shared with us this morning.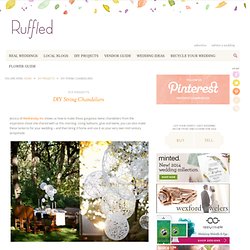 Using balloons, glue and twine, you can also make these lanterns for your wedding – and then bring it home and use it as your very own mid century lampshade. What you will need are: balloons, glue, yarn, tray for glue, corn starch 1/2 cup of Corn starch, 1/4 cup of Warm water, clear fast drying spray paint, hanging lamp cord or fishing line (depending on your desired final product), and a lighting kit if you're looking for a fully functional lantern. Jessica recommends using a sharpie to mark on the inflated balloon how much room you need to leave for the lighting cord. She also recommends coating the balloon with vaseline prior to wrapping the yarn coated with glue so it doesn't stick on the balloon once it's dry.
Paper Flower Key Holder / Mark Montano | Fiskars - StumbleUpon. Difficulty Rating: Beginner Tags If you need a quick 'just because' gift for someone, this is it!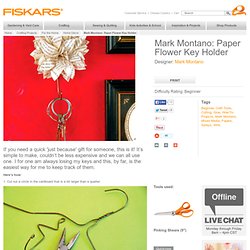 Print Hula Hoop Rug Page | Crafts | FamilyFun - StumbleUpon. This photo originally appeared in FamilyFun Magazine Total Time 2 to 3 hours Ages school-age What does it take to transform a pile of old T-shirts into spectacular works of woven art?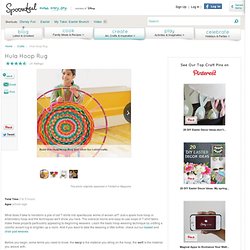 Just a spare hula hoop or embroidery hoop and the techniques we'll show you here. The oversize looms and easy-to-use loops of T-shirt fabric make these projects particularly appealing to beginning weavers. V and Co how to: jersey knit bracelet - StumbleUpon. I don't know what it is about this time of year that makes me just want to have my bare feet in the sand, be watching the sun setting into the ocean, and breathing in the warm salty air of the beach...as i get older, more and more i find myself missing that place i used to go to almost every.single.day. as a teen.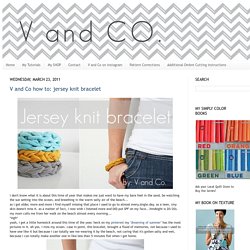 (my skin doesn't miss it. as a matter of fact, i now wish i listened more and DID put SPF on my face...hindsight is 20/20). my mom calls me from her walk on the beach almost every morning... *sigh*yeah, i get a little homesick around this time of the year. heck on my pinterest my "dreaming of summer" has the most pictures in it. ah yes. i miss my ocean. case in point. this bracelet, brought a flood of memories, not because i used to have one like it but because i can totally see me wearing it by the beach, not caring that it's gotten salty and wet, because i can totally make another one in like less than 5 minutes flat when i get home. Page corner bookmark for kids in Ideas for kids crafts - StumbleUpon. DSC_5984.jpg (900×600) Fotoramar av kapsyler – Bottle cap photo frames. Jag fick med mig lite kapsyler hem från vår Thailand-resa i julas.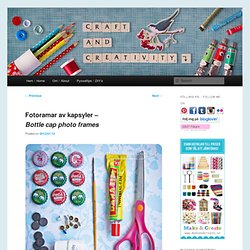 Inspirerad av ett Martha Stewart-pyssel så fick jag för mig att jag skulle göra miniatyrramar för några av våra Thailands-bilder. Så här gick jag till väga: —–I brought some bottle caps back with me from our trip to Thailand. Inspired by a Martha Stewart craft, I decided to make some miniature picture frames for our holiday photos. This is how I went about making them: DIY Doily&Lamp - StumbleUpon. Top Bloggers Favorite DIY Projects - iVillage - StumbleUpon. Crafty Nest - StumbleUpon. I feel melty. | Light&Spoon - StumbleUpon. EDIT 11/5/2012: We are no longer selling custom crayon pieces in our Etsy shop.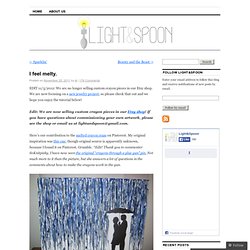 We are now focusing on a new jewelry project, so please check that out and we hope you enjoy the tutorial below! Edit: We are now selling custom crayon pieces in our Etsy shop! If you have questions about commissioning your own artwork, please see the shop or email us at lightandspoon@gmail.com. Here's our contribution to the melted crayon craze on Pinterest. $5 DIY Artwork. Clip It Display a rotating exhibit of your favorite postcards, prints, and pictures.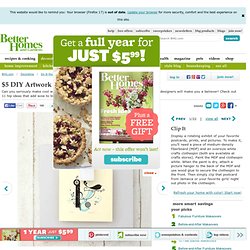 To make it, you'll need a piece of medium-density fiberboard (MDF) and an oversize white crafts clothespin (both are available at crafts stores). Paint the MDF and clothespin white. When the paint is dry, attach a picture hanger to the back of the MDF and use wood glue to secure the clothespin to the front. Then simply clip that postcard from Jamaica or your favorite girls' night out photo in the clothespin. Mix Tape It doesn't get much simpler than this. Fabric Wall Art - CRAFT Video Podcast. Watch Breakfast At Tiffanys 1961 online. Ufhonors1. 30 Best Songs of the Year that should be on your Playlist now. Wanna dance, move, smile, change the world or at the very least, be inspired?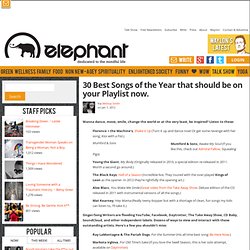 Listen to these: Florence + the Machine's, Shake it Up (Turn it up and dance now! Yoga Playlists, Yoga Music Playlist. Below are links to many of the yoga playlists I've played in class.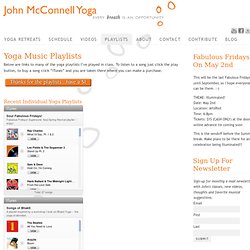 To listen to a song just click the play button, to buy a song click "iTunes" and you are taken there where you can make a purchase. Recent Individual Yoga Playlists I'm pretty excited to have this new widget available for my yoga playlists! This particular playlist is really intended as great driving music. One big photo » a picture is worth a thousand words.
Pearltrees videos
Getting started.
---