crafts
Get flash to fully experience Pearltrees
I made this thing.
Good Morning darlings...Hope you have a fabulous day today!! With the use of GPS there is really not much use to all those maps we collected through out time...but somehow I have a hard time throwing them away. How about this lovely way of repurposing them??
I thought I would try my hand at carving the popular cannibalistic pumpkin that I've seen so many times before.
How To: Give your old t-shirts a second life.
Got a recycling bin full of glass bottles?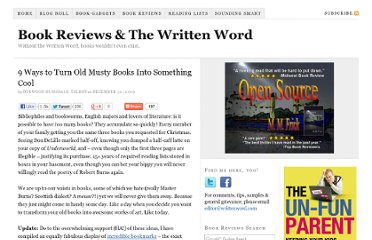 Bibliophiles and bookworms, English majors and lovers of literature: is it possible to have too many books?
Origami is the art of folding a piece of paper (typically a square) into something recognizable without using glue, tape or scissors. Check here for all the origami projects on the site!