Creation
List of free software for audio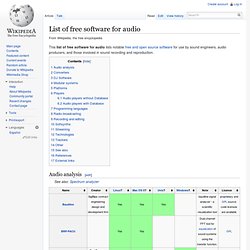 This list of free software for audio lists notable free and open source software for use by sound engineers, audio producers, and those involved in sound recording and reproduction. Audio analysis[edit] Converters[edit]
News 2014-03-21: LMMS 1.0.0 has been released! Available for Linux and Windows - download here. 2013-06-12: LMMS 0.4.15 has been released!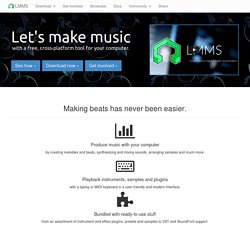 Record Bring it to the computer Grab yourself a nice audio interface.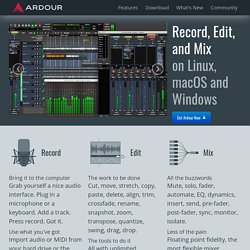 www.xoxos.net rev.2011
Perfecto was inspired by my desire to reinstate the functionality of my missing Pro-One in a software monosynth by oversampling two oscillators that can modulate each other simultaneously. The oscillators of the first edition were not antialiased, however pitch modulation could be locked to a user-set scale which could produce transposing, tempo-synced arpeggios. The second version used BLIT oscillators, which are antialiased. While the second version still has up to 16x oversampling, cross-modulation is performed using the output of the BLIT table, which means that the output still differs from analog oscillators. The pitch scaling was removed and an assignable filter was added into the cross-modulation architecture.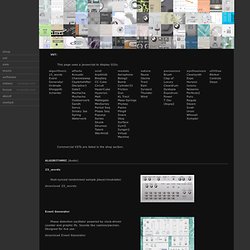 OpenMPT.org - Home of Open ModPlug Tracker | Discover the music inside...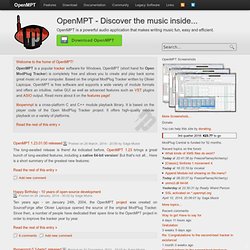 Skip to main content OpenMPT - Discover the music inside... OpenMPT is a powerful audio application that makes writing music fun, easy and efficient. Download OpenMPT Welcome to the home of OpenMPT!
Hitsquad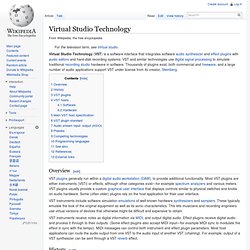 Overview[edit] VST instruments receive notes as digital information via MIDI, and output digital audio. Effect plugins receive digital audio and process it through to their outputs. (Some effect plugins also accept MIDI input—for example MIDI sync to modulate the effect in sync with the tempo). MIDI messages can control both instrument and effect plugin parameters.
Virtual Studio Technology