BPM
Every organization has their very own distinct business processes which differentiates them from their competitors. Some companies have predefined processes while some have processes which are defined by the employees themselves. Imagine what would happen if each customer support representative have their own way of managing a customer. Without a proper process in place, calls from customers can go unanswered and can be transferred endlessly.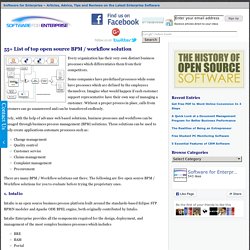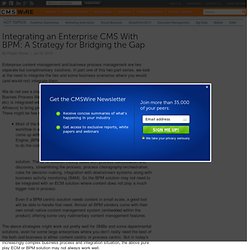 Integrating an Enterprise CMS With BPM: A Strategy for Bridging the Gap
Enterprise content management and business process management are two separate but complimentary solutions. In part one of this two part series, we look at the need to integrate the two and some business scenarios where you would (and would not) integrate them. We do not see a situation very often in the enterprise — large or SMB — where a Busines Process Management (BPM) product (like IBM Lombardi, Pega, Appian, etc) is integrated with an Enterprise CMS (EMC Documentum, IBM FileNet/P8, Alfresco) to bring process and content together in a collaborative workspace. There might be few reasons behind this: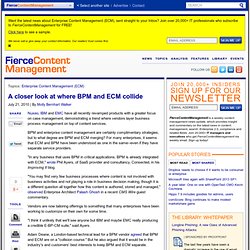 A closer look at where BPM and ECM collide
Nuxeo, IBM and EMC have all recently revamped products with a greater focus on case management, demonstrating a trend where vendors layer business process management on top of content services. BPM and enterprise content management are certainly complimentary strategies, but to what degree are BPM and ECM merging? For many enterprises, it seems that ECM and BPM have been understood as one in the same--even if they have separate service providers. "In any business that uses BPM in critical applications, BPM is already integrated with ECM," wrote Phil Ayers, of SaaS provider and consultancy, Consected, in his Improving It blog. Sign up for our FREE newsletter for more news like this sent to your inbox!
Enterprise content management (ECM) and business process management (BPM), while separate technologies, often overlap. As a result, some organizations struggle with understanding whether they need an ECM solution, a BPM solution or both. This article takes a look at the options.
Enterprise CMS vs Business Process Management: Do You Need One Platform, or Both?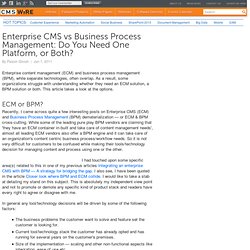 jBPM is a flexible Business Process Management (BPM) Suite. It makes the bridge between business analysts and developers. Traditional BPM engines have a focus that is limited to non-technical people only. jBPM has a dual focus: it offers process management features in a way that both business users and developers like it. What does jBPM do? A business process allows you to model your business goals by describing the steps that need to be executed to achieve that goal and the order, using a flow chart. This greatly improves the visibility and agility of your business logic, results in higher-level and domain-specific representations that can be understood by business users and is easier to monitor.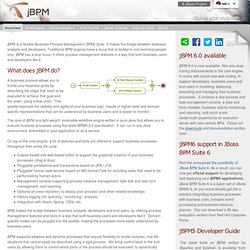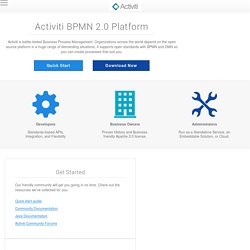 Activiti is a light-weight workflow and Business Process Management (BPM) Platform targeted at business people, developers and system admins. Its core is a super-fast and rock-solid BPMN 2 process engine for Java. It's open-source and distributed under the Apache license.
The success of many VARs in the open source ecosystem is based on their ability to repackage open source software into a user-friendly platform... look no further than ProcessMaker, the workflow package from Colosa that debuted a much-enhanced version. ProcessMaker has helped us improve the efficiency of our employees. Instead of running around to get approvals, we now have a software based process management. " Pinkesh Jain, Finance Manager, Lakozy Toyota success story More Testimonials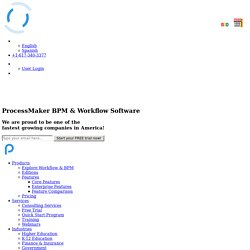 The proper combination of these courses enables the definition of a specific learning path in order to satisfy the needs of each role involved in the implementation of processes with Bizagi BPM Suite. Process Analyst: in charge of understanding, modeling and specifying different business situations using the BPMN standard. Process Automation Designer: in charge of understanding, modeling and automating different business situations using Bizagi Studio.
Free BPM, BPMN Online Training | BizAgi Tutorial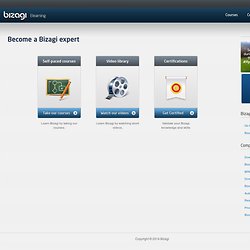 BPM Markets to Slow 2012 ‹ Martin Butler Research
Six Sigma Schmigma ‹ Martin Butler Research
Hi all, The Groovy team is very pleased to announce the first beta of the Groovy 2.3 release! Groovy 2.3.0-beta-1 is actually already a feature-complete beta, so the release cycle towards the final version will be very short.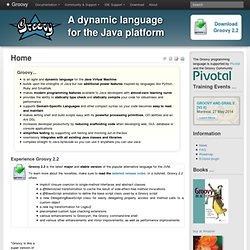 0inShare By brian | April 28, 2011 | ACM, BPM, Collaboration, crm, DMS, ECM This past Thursday I attended a session at the the Gartner BPM Summit in Baltimore entitled "The Great Case Management Debate." The session was moderated by Gartner Research VP Toby Bell with participation by two other Gartner VPs: Janelle Hill and Kimberly Harris-Ferrante. Later that same day, I was in a workshop moderated by Nathaniel Palmer, WFMC Executive Director, on the same topic.
Exploring the differences between Adaptive Case Management (ACM) and Business Process Management (BPM) | ProcessMaker Blog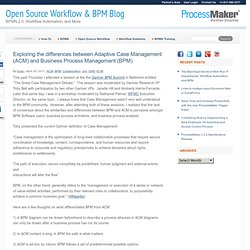 BizAgi ‹ Martin Butler Research
London, UK (PRWEB) December 4, 2010 Future Strategies Inc. announced the winners of the 2010 Global Awards for Excellence in Business Process Management (BPM) and Workflow. Co-sponsored by WfMC and BPM.com and now in their 17th year, these prestigious awards recognize user organizations that have demonstrably excelled in implementing innovative business process solutions to meet strategic business objectives. There are five geographical regions and each region receives Gold and Silver Awards.
BizAgi Receives Gold Award for Best BPM Project in Europe
Mapeamento e Modelagem de Processos de Negócios com BPM
Ultimus ‹ Martin Butler Research
BPM – Not So Simple ‹ Martin Butler Research
Notação BPMN v. 1.2
Ridgefield Visiting Nurse Association 90 East Ridge, Ridgefield, CT 06877 203.438.5555 § 203.431.6583 (fax) Web: www.ridgefieldvna.org President & CEO: Theresa Santoro, RN, BSN
The Association of Business Process Management Professionals: Europe Chapters
Últimas Postagens Fique ligado nas últimas postagens de nossos blogueiros Mais Creditadas nas Últimas Horas TIBCO e Apresentação de BPM
TIBCO e Apresentação de BPM - InfoBlogs