Chemistry
Electricity and Magnetism - Interactive J. Atomic Orbitals Surrounding the nucleus of an atom are various energy "shells" composed of electron distribution probabilities known as atomic orbitals.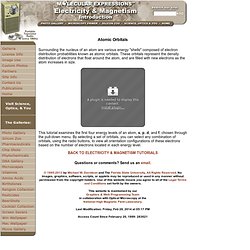 These orbitals represent the density distribution of electrons that float around the atom, and are filled with new electrons as the atom increases in size. It's Elemental - Balancing Act! Chemical Reactions. Diet Coke + Mentos. Extreme Diet Coke & Mentos Experiments II: The Domino Effect.
Intute: Science, Engineering and Technology - browse Quantum Mec. Order by:Date|Title1| 2| 3| 4| 5|Next Advanced physical chemistry I : Chem 531.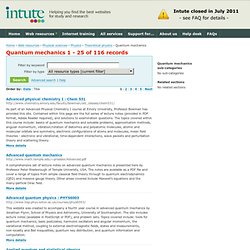 ---