Music
The Wranitzky Project
THE MIDDLE EAST RESTAURANT & NIGHTCLUB
Scales and Key Signatures Our Flash Keyboard can help your understanding of this area. Here is a list of all the topic on this page: Scales A scale is a group of pitches (scale degrees) arranged in ascending order. These pitches span an octave.
Scales and Key Signatures - The Method Behind the Music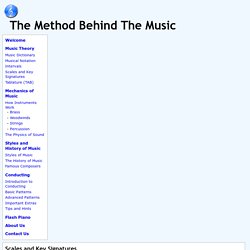 "...Stevie was right here with me, studying me as I studied the music. That's how we both learned to play. Off the records. No reading, no writing, no training.
The Basics Of Guitar Music - Part I - Slowhand Blues Guitar
guitarchords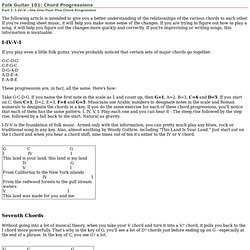 Playing Guitar - Chord Progressions - Folk Music
Part I: I-IV-V --the One-Four-Five Chord Progression The following article is intended to give you a better understanding of the relationships of the various chords to each other. If you're reading sheet music, it will help you make some sense of the changes. If you are trying to figure out how to play a song, it will help you figure out the changes more quickly and correctly.
Computorgirl, Melodic Electronica on Hard:Drive
The Flamenco Guitar Home Page
Flamenco - world.com / La web del flamenco
Acoustic Guitar Central: Home for all Acoustic Music
Olav Torvund's Guitar Pages - Main Page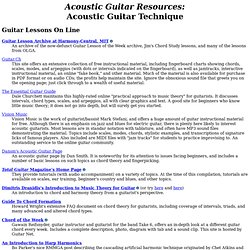 Acoustic Guitar Resources: Technique
Guitar Lessons On Line Guitar Lesson Archive at Harmony-Central, MIT An archive of the now-defunct Guitar Lesson of the Week archive, Jim's Chord Study lessons, and many of the lessons from OLGA.