Extreme
Videos and Photos of Army Special Ops, Navy SEALs, Air Force, Ma. We're sorry, the page you requested cannot be found.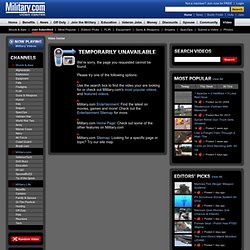 Please try one of the following options: Use the search box to find the video your are looking for or check out Military.com's most popular videos and featured videos. Military.com Entertainment: Find the latest on movies, games and more! Check out the Entertainment Sitemap for more. Military.com Home Page: Check out some of the other features on Military.com. Joseph Kittinger. Serving as a fighter pilot during the Vietnam War, he achieved an aerial kill of a North Vietnamese jet fighter and was later shot down himself, spending 11 months as a prisoner of war in a North Vietnamese prison.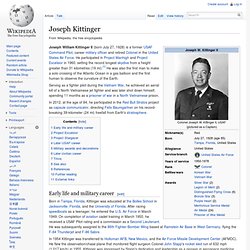 In 2012, at the age of 84, he participated in the Red Bull Stratos project as capsule communicator, directing Felix Baumgartner on his record-breaking 39-kilometer (24 mi) freefall from Earth's stratosphere. Early life and military career[edit] Born in Tampa, Florida, Kittinger was educated at the Bolles School in Jacksonville, Florida, and the University of Florida. After racing speedboats as a teenager, he entered the U.S. Air Force in March 1949. The Free Fall Research Page: Other Amazing Stories.
---