Flex
Ruboss Technology Corporation: The Flexible Rich Internet Applications Company. Ruboss is based in the Vancouver, BC area. It is a boutique (4-developer) consultancy focusing on web and rich internet application development.
Ruboss Technology Corporation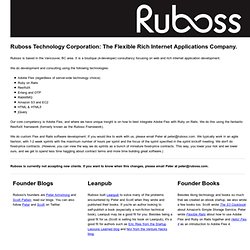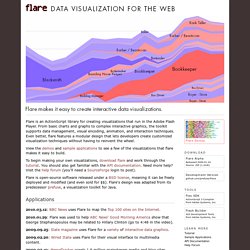 Flare is an ActionScript library for creating visualizations that run in the Adobe Flash Player. From basic charts and graphs to complex interactive graphics, the toolkit supports data management, visual encoding, animation, and interaction techniques. Even better, flare features a modular design that lets developers create customized visualization techniques without having to reinvent the wheel. View the demos and sample applications to see a few of the visualizations that flare makes it easy to build. To begin making your own visualizations, download flare and work through the tutorial.
Degrafa : Declarative Graphics Framework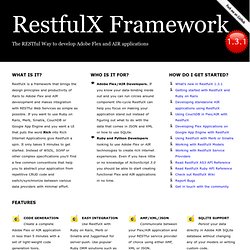 RestfulX Framework
Code Generation Create a complete Adobe Flex or AIR application in less than 5 minutes with a set of light-weight code generation tools. Online/Offline Work in off-line mode and then synchronize your data between AIR SQLite and other service providers. Easy Integration Use RestfulX with Ruby on Rails, Merb or Sinatra and Juggernaut for server-push. Use popular Ruby ORM solutions such as ActiveRecord.
RaVis (Relational Analysis Components) is part of the BirdEye "a community project to advance the design and development of a comprehensive open source information visualization and visual analytics library for Adobe Flex." The RaVis components all you to create interactive data visualisation interfaces for the analysis of relational data sets such as social networks, organisation trees, navigation systems and anything else you can think of. To create this example I followed an article I beta tested for the Flash&Flex Developer's Magazine. Once you get to grips with setting up the project and components it's really easy, this was my first proper dive into flex and I found it to be quite manageable. The data for this example and the ones on the project website are loaded in form an xml file and are very basic, for example to make 2 nodes and connect them takes as little as this code: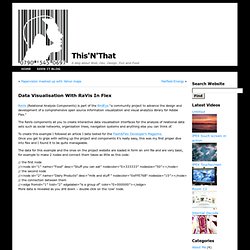 Data visualisation with RaVis in Flex | This'N'That