Firefox
Useragent
Top 75 Apps for Enhancing Your Facebook Page. Have you customized your Facebook page?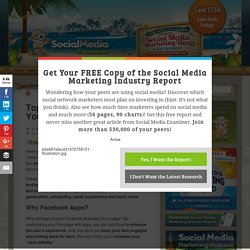 There are thousands of apps that can help you engage with your fans. In this article I'll focus on the top 75 Facebook apps. These apps allow you to customize your landing tabs, add your blog, add videos and photos, add chat, add polls, contests, geolocation, scheduling, email, ecommerce and much more. Why Facebook Apps? Warzone Map Tools. CCEnhancer | The Web Atom. CCEnhancer is a small tool which adds support for over 1,000 new programs into the popular program CCleaner.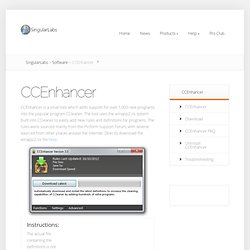 The tool uses the winapp2.ini system built into CCleaner to easily add new rules and definitions for programs. The rules were sourced mainly from the Piriform Support Forum, with several sourced from other places around the internet. Directly download the winapp2.ini file here. Disclaimer: Home - Pencil Project. Yoono. Google Docs: Download. Firefox Greasemonkey Script Note: Google has now built bulk document exporting into the GDocs interface.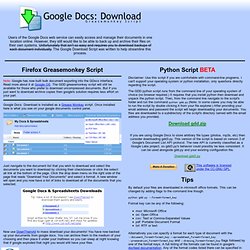 Read more about it at Google OS. The GDD greasemonkey script will still be available for those who prefer to download uncompressed documents. How to: add features to Firefox with Mozilla's new Jetpack - Ars Technica. Mozilla Labs has announced a new project called Jetpack to provide an easy way for users and developers to enhance the Firefox web browser.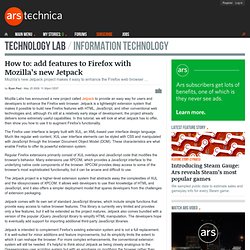 Jetpack is a lightweight extension system that makes it possible to build new Firefox features with HTML, JavaScript, and other conventional web technologies and, although it's still at a relatively early stage of development, the project already delivers some extremely useful capabilities. In this tutorial, we will look at what Jetpack has to offer, then show you how to use it to augment Firefox's functionality. The Firefox user interface is largely built with XUL, an XML-based user interface design language. Much like regular web content, XUL user interface elements can be styled with CSS and manipulated with JavaScript through the browser Document Object Model (DOM). Keyfixer :: Firefox Add-ons. Fixing Home and End Keys on Firefox 3 for Mac OS X. Since I'm a heavy gmail user, I make significant use of the editor window in my web browser.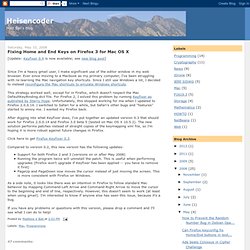 Ever since moving to a Macbook as my primary computer, I've been struggling with re-learning the Mac navigation key shortcuts. Since I still use Windows a lot, I decided to instead reconfigure the Mac shortcuts to emulate Windows shortcuts. This strategy worked well, except for in Firefox, which doesn't respect the Mac DefaultKeyBinding.dict file. For Firefox 2, I solved this problem by running Keyfixer as published by Starry Hope. KeyFixer - Firefox Version - Starry Hope Productions. Update: This program is very old and was made for Firefox 2.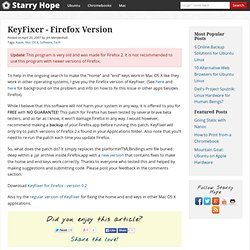 It is not recommended to use this program with newer versions of Firefox. To help in the ongoing search to make the "home" and "end" keys work in Mac OS X like they work in other operating systems, I give you the Firefox version of KeyFixer. (See here and here for background on the problem and info on how to fix this issue in other apps besides Firefox). While I believe that this software will not harm your system in any way, it is offered to you for FREE with NO GUARANTEE! Mozilla Jetpack: Firefox Extensions with Added Thrust. Jetpack is a new experimental project from Mozilla that could revolutionize how Firefox browser extensions are built and deployed.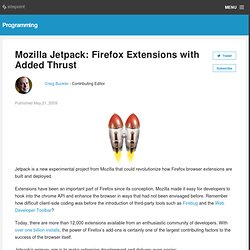 Extensions have been an important part of Firefox since its conception. Mozilla made it easy for developers to hook into the chrome API and enhance the browser in ways that had not been envisaged before. Remember how difficult client-side coding was before the introduction of third-party tools such as Firebug and the Web Developer Toolbar? Today, there are more than 12,000 extensions available from an enthusiastic community of developers. With over one billion installs, the power of Firefox's add-ons is certainly one of the largest contributing factors to the success of the browser itself. SourceForge.net: ooop » home. LanguageTool Open Source language checker. Gspace. Programming: How to build a Firefox extension. Firefly - filemanager in your browser. Web Developer.
CustomizeGoogle: Improve Your Google Experience -- Firefox Extension.
---