Erp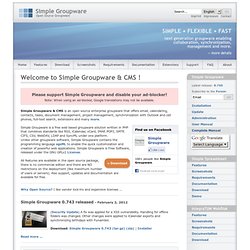 Please support Simple Groupware and disable your ad-blocker! Note: When using an ad-blocker, Google translations may not be available. Simple Groupware & CMS is an open source enterprise groupware that offers email, calendaring, contacts, tasks, document management, project management, synchronization with Outlook and cell phones, full-text search, extensions and many more.
As we gear up to work on our next major milestone release CiviCRM 4.4, there's been a considerable excitement within the team for our MIH campaign. We believe the new features and new improvements to existing features outlined for 4.4 definitely will add value to the CiviCRM software. Based on our project plan, the fundraising deadline for the MIHs is 16th of June - that is just under two weeks away. Taking a stock of where we stand as of today, I want to share the progress of MIH campaign 2013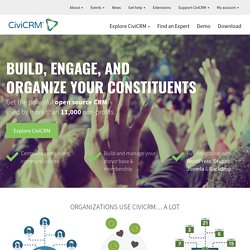 Fat Free CRM - Ruby On Rails-based open source CRM platform
Estimados utilizadores, equipa do Projecto Colibri lançou a sua mais recente versão. O Projecto Colibri RCP5 A versão 4 irá ser descontinuada em 31-12-2009, apesar de continuar a funcionar vai deixar de ter suporte e ser desenvolvida Aconselhamos que todos os utilizadores comecem a preparar a transição para a versão 5.0 até ao fim do ano de 2009. 1 De Janeiro de 2010 - Nova versão do ficheiro SAF-T PT, imposta pela Portaria n.º 1192/2009, de 08/10. Todas as empresas que actualmente utilizem software de facturação serão obrigadas a actualizá-lo para uma nova versão compatível com este novo SAF-T.
Projecto Colibri: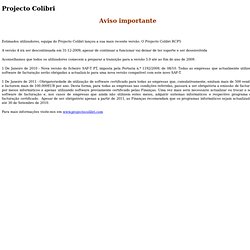 Open Source CRM
pro
Tine 2.0 - Home
Keynectis, the leading European provider of software and cloud trust services, is changing its name to OpenTrust. OpenTrust develops software that protects the identities of people and devices, and for securing electronic documents and transactions. Our role as an internationally recognized Certificate Authority is the guarantee of the reliability of our solutions.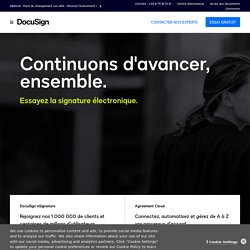 OPENTRUST Trust & Security Software - Home
Tiny ERP