Bootloader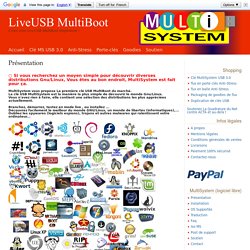 MultiSystem, LiveUSB MultiBoot.
○ Si vous recherchez un moyen simple pour découvrir diverses distributions Gnu/Linux, Vous êtes au bon endroit, MultiSystem est fait pour ça. MultiSystem vous propose La première clé USB MultiBoot du marché. La clé USB MultiSystem est la manière la plus simple de découvrir le monde Gnu/Linux. Vous n'avez rien à faire, elle contient une sélection des distributions les plus appréciées actuellement.
Run* YUMI-2.0.0.2.exe following the onscreen instructionsRun the tool again to Add More ISOs/Distributions to your DriveRestart your PC setting it to boot from the USB deviceSelect a distribution to Boot from the Menu and enjoy! That's all there is to it. You should now be booting your favorite distributions from your custom Multi-Boot USB device! How It Works: YUMI (Your Universal Multiboot Installer) enables each user to create their own custom Multiboot UFD containing only the distributions they want, in the order by which they are installed. A new distribution can be added to the UFD each time the tool is run.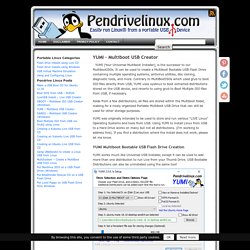 Boot Multiple ISO from USB (MultiBoot USB)
Drive Key Boot Utility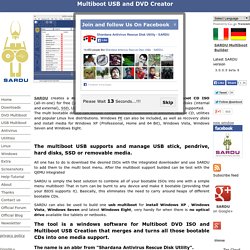 SARDU creates a multiboot USB drive, a multiboot DVD ISO or multiboot CD ISO (all-in-one) for free (personal and non commercial use, read the license). Hard disks (internal and external), SSD, USB flash drive and all removable memory disk and media are supported. The multi bootable device can include comprehensive collections of antivirus rescue CD, utilities and popular Linux live distributions. Windows PE can also be included, as well as recovery disks and install media for Windows XP (Professional, Home and 64 Bit), Windows Vista, Windows Seven and Windows Eight. The multiboot USB supports and manage USB stick, pendrive, hard disks, SSD or removable media. All one has to do is download the desired ISOs with the integrated downloader and use SARDU to add them to the multi boot menu.
SARDU - Shardana Antivirus Rescue Disk Utility
multicd.sh
MultiCD - Combine several CDs into one. Introduction (Top) multicd.sh is a shell script designed to build a multiboot CD image containing many different Linux distributions and/or utilities. The advantages to making a CD with this script are: You don't need to burn multiple CDs for small distributions.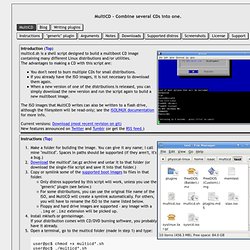 SyMon Home Page
New! Version 9.28 Platinum Edition (now supports Windows 8). Has "Stealth Mode, AutoBoot Controls & Desktop Shortcuts" for total system automation. OSL2000 is an advanced multi boot manager. Using OSL2000, you can easily install, boot and manage up to 100 independent OSs in your system. A boot manager is a program that lets you have multiple operating systems in your system.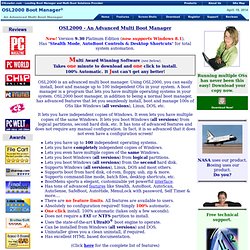 OSL2000 Boot Manager - An Advanced Multi Boot Manager
Advanced Boot Manager
Bootmanager - Free Boot Manager, builtin usb driver, native usb, boot different operating systems, cdrom, usb, freeware, option rom bios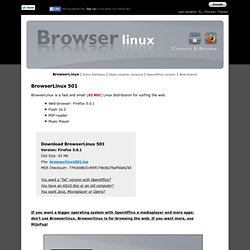 BrowserLinux is a fast and small (93 Mb!) Linux distribution for surfing the web. Web-browser: Firefox 5.0.1 Flash 10.3 PDF-reader Music Player If you want a bigger operating system with OpenOffice a mediaplayer and more apps: don't use Browserlinux. Browserlinux is for browsing the web. If you want more, use MijnPup!
BrowserLinux
Creating bootable Windows 2000/XP/2003 Disc (CDBurnerXP 3) (Windows 2000/XP/2003) - TACKtech Corp.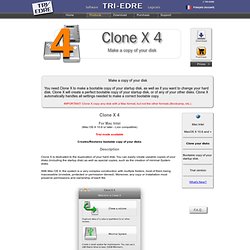 Clone X (from TED)
Clone X 4 For Mac Intel(Mac OS X 10.6 or later - Lion compatible) Trial mode available Creates/Restores bootable copy of your disks
Copyright (c) 2000 by James Su (suzhe@gnuchina.org), Lonius (november@video.mdc.tsinghua.edu.cn) and Christopher Li (chrisl@gnuchina.org) Smart Boot Manager (SBM) is an OS independent and full-featured boot manager with an easy-to-use user interface. There are some screenshots available. The main goals of SBM are to be absolutely OS independent, flexible and full-featured. It has all of the features needed to boot a variety of OSes from several kinds of media, while keeping its size no more than 30K bytes. In another words, SBM does NOT touch any of your partitions, it totally fits into the first track (the hidden track) of your hard disk!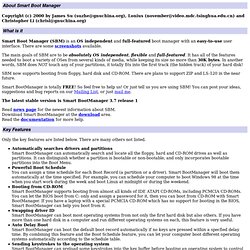 About Smart Boot Manager
Self Image - The FREE (and open source) hard drive imaging utility for Windows
Take your Favorite Portable Linux Desktop with you wherever you go Popular YUMI – Your Universal Multiboot InstallerPopular Universal USB Installer – Easy as 1 2 3 Easily install your favorite Linux operating system on a flash drive or USB key no larger than your thumb (Thumb Drive). Your Portable Linux operating system can then be taken with you, and run from any computer that can boot from the USB flash device. Bring your operating system, applications, files, email, bookmarked favorites, games and more with you.
Boot and run Linux from a USB flash memory stick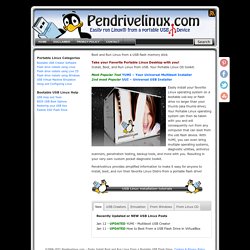 redWall Firewall
HOWTO: Install and Boot OS X On a Flash Drive : Brad's Blog
Remember when it was first revealed the Windows XP could be installed and booted off of a USB flash drive? Well, great for Windows users. What about Mac users? We were left out in the cold. If one were to search hard enough in the vast Web index that is Google, one could find just the snippets of how to boot a system from a USB drive, how to set a drive as bootable, yadda yadda yadda.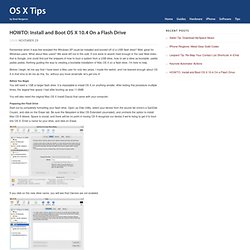 LH Top 10: USB thumb drive tricks - Lifehacker
I know I'm coming into this topic a bit late but I love having cross platform programs on my flash drive so I know what I have when I sit at any computer. Here are some of my most common uses of my 2G Cruzer Titanium: 1.
DOS/Windows9X/Me/NT/2K/XP Excellent Bootdisks Windows XP Fresh Install Bootdisk And Bootable CD Driver Free Disk For BIOS Flashing 1 | 2 | 3 | About DRIVERS GiveMeFile.Net NoDevice DriversLIB
Bootdisk.Com
Software: Carbon Copy Cloner
English page | Seite auf Deutsch | Page en français | Página en español About SystemRescueCd Description: SystemRescueCd is a Linux system rescue disk available as a bootable CD-ROM or USB stick for administrating or repairing your system and data after a crash. It aims to provide an easy way to carry out admin tasks on your computer, such as creating and editing the hard disk partitions. It comes with a lot of linux software such as system tools (parted, partimage, fstools, ...) and basic tools (editors, midnight commander, network tools).
Main Page
Current version: 4.10 GAG (initials, in spanish, of Graphical Boot Manager) is a Boot Manager program. It's loaded when the computer is turned on and allows you to choose the operating system you want to use. Its main features are: Allows boot of up to 9 different operating systems.It can boot operating systems installed in primary and extended partitions on any available hard disk.Can be installed from nearly all operating systems.GAG doesn't need its own partition.
GAG, the Graphical Boot Manager
Plan-B The Network Security Auditing and Forensics Utility
Does The Linden Method Work On GAD? One major reason for you really to experience panic attacks is due to worries. For anxiety to be stopped by you, you should try to learn just how to manage and cope with them. However programs like The Linden Method are useful tools to get over the symptoms. Your panic problems and worries won't bother you so much nowadays, if you'll discover all this. You'll also direct you to ignore your panic episodes and may experience more comfortable together with your lifestyle.
Main Page - SystemRescueCd
UBCD for Windows