Arduino
Grasshopper - generative modeling for Rhino. Liquidware : Open Source Electronics. GEONExT: geonext.de. Mantissa (Mathematical Algorithms for Numerical Tasks In Space System Applications) Overview Mantissa is a collection of various mathematical tools aimed towards for simulation.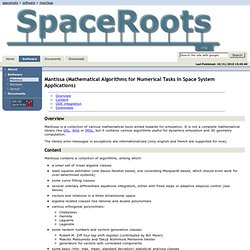 It is not a complete mathematical library like GSL, NAG or IMSL, but it contains various algorithms useful for dynamics simulation and 3D geometry computation. The library error messages in exceptions are internationalized (only english and french are supported for now). Content Mantissa contains a collection of algorithms, among which: Solutions from PC Magazine: Save the World with Your Screensaver. Anybody would like to cure cancer or AIDS or solve the world's most complex problems.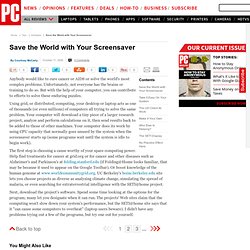 Unfortunately, not everyone has the brains or training to do so. But with the help of your computer, you can contribute to efforts to solve these enduring puzzles. Using grid, or distributed, computing, your desktop or laptop acts as one of thousands (or even millions) of computers all trying to solve the same problem.
---