sns관련
Get flash to fully experience Pearltrees
Internet usage is sky-rocketing throughout the Asia-Pacific region, obviously making the growth of social media the fastest in the world, as you'll see, it's not all about Facebook, but it still leads the way across the region, at least for now. This is a nice collective Infographic from Burson-Marsteller . The social media statistics cover the most popular social networks in Australia, China, Hong Kong, India, Indonesia, Japan, Malaysia, Philippines, Singapore, South Korea, Taiwan, Thailand and Vietnam at a top level, but also lists a few basic internet statistics per country, like the total number of people connected to the internet and the top 5 visited websites… Make sure you save this post for later, I'm sure you'll need to reference these stats at some stage in the future!
앵콜 컨퍼런스에도 너무 많은 분들께서 관심을 보여주셔서, 사전 등록이 마감되었습니다. 따라서 사전 등록을 하셨으나 결제와 입금을 하시지 않은 분들 외에는 현장에서 따로 접수 받지 못하게 되었음을 알려드립니다. 이 점 양해 바랍니다. 지난 2월 14일 500여분이 참석한 가운데 성황리에 막을 내린 블로터 컨퍼런스 '페이스북 비즈니스 인사이트 2011′가 앵콜 개최됩니다. 사전 등록을 하고도 좌석이 조기 매진되는 바람에 참가 기회를 놓치신 분들과 행사 이후 좋은 평가를 듣고서 재개최를 요청해 오신 분들을 위해 마련한 자리입니다.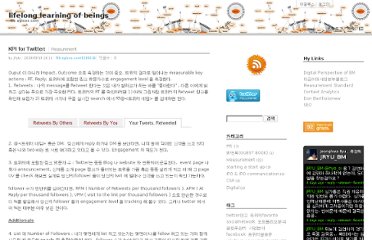 Ouput 이 아니라 Impact, Outcome 으로 측정하는 것이 중요. 트윗의 결과로 일어나는 measurable key actions : RT, Reply, 트위터에 포함된 링크 방문자수로 engagement level 을 측정한다. 1. Retweets : 나의 message를 Retweet 한다는 것은 내가 말하고자 하는 바를 "좋아한다" , 다른 이에게 읽히고 싶다는 뜻으로 가장 주요한 PI다.
제가 구독하고 있는 소셜미디어투데이( www.socialmediatoday.com )에 괜찮은 정보가 올라와 다 같이 공유해요~~ 이름하여, 'The top ten Twitter statistics and analytics tools' (트위터 통계 및 분석 도구 베스트 10)인데요, 저와 같이 블로그를 직접 운영하고 있거나 또는 에이전시에 소속되어 있는 경우에는, 트위터 운영에 대한 평가지표를 도출해 낼 때 매우 유용할 듯 합니다. 자, 그럼 함 살펴볼까요? 아참! 들어가기전에, 저는 영어를 잘 하지 못해서 일부 번역상의 실수가 있을 수 있습니다.