Favourite Authors
Douglas Adams. Douglas Noel Adams (11 March 1952 – 11 May 2001) was an English writer, humorist, and dramatist.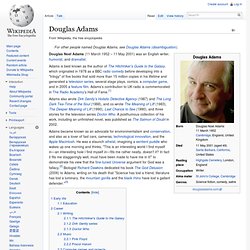 Adams also wrote Dirk Gently's Holistic Detective Agency (1987) and The Long Dark Tea-Time of the Soul (1988), and co-wrote The Meaning of Liff (1983), The Deeper Meaning of Liff (1990), Last Chance to See (1990), and three stories for the television series Doctor Who. A posthumous collection of his work, including an unfinished novel, was published as The Salmon of Doubt in 2002. Adams became known as an advocate for environmentalism and conservation, and also as a lover of fast cars, cameras, technological innovation, and the Apple Macintosh. He was a staunch atheist, imagining a sentient puddle who wakes up one morning and thinks, "This is an interesting world I find myself in—an interesting hole I find myself in—fits me rather neatly, doesn't it? In fact it fits me staggeringly well, must have been made to have me in it!
" Isaac Asimov. Isaac Asimov (/ˈaɪzɨk ˈæzɨmɒv/ EYE-zək AZ-ə-mov;[2] born Isaak Yudovich Ozimov; circa January 2, 1920[1] – April 6, 1992) was an American author and professor of biochemistry at Boston University, best known for his works of science fiction and for his popular science books.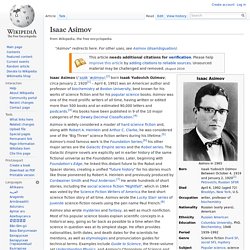 Asimov was one of the most prolific writers of all time, having written or edited more than 500 books and an estimated 90,000 letters and postcards.[3] His books have been published in 9 of the 10 major categories of the Dewey Decimal Classification.[4] The prolific Asimov also wrote mysteries and fantasy, as well as much nonfiction. Most of his popular science books explain scientific concepts in a historical way, going as far back as possible to a time when the science in question was at its simplest stage. He often provides nationalities, birth dates, and death dates for the scientists he mentions, as well as etymologies and pronunciation guides for technical terms. H. G. Wells. Herbert George "H.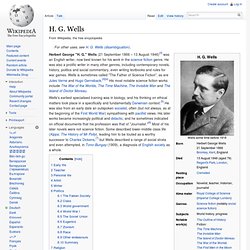 G. " Wells (21 September 1866 – 13 August 1946)[3] was an English writer, now best known for his work in the science fiction genre. Roald Dahl - The Official Web Site. Eric Van Lustbader - Thrillers. Ian Livingstone. Early life[edit] Livingstone attended Altrincham Grammar School for Boys, where he earned (he claims) only one A level, in Geography.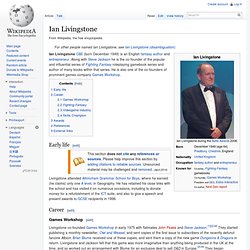 He has retained his close links with the school and has visited it on numerous occasions, including to donate money for a refurbishment of the ICT suite, and also to give a speech and present awards to GCSE recipients in 1998. Career[edit] Games Workshop[edit] In 1980, Livingstone and Jackson began to develop the concept of the Fighting Fantasy gamebook series, the first volume of which (The Warlock of Firetop Mountain) was published in 1982 by Puffin Books (a subsidiary imprint of Penguin Books).[2]:46 Livingstone and Jackson sold Games Workshop in 1991 for £10 million.[4] Philip K. Dick - Science Fiction Author - Official Site.
---