Photography
i 1 votes Ils sont cinq associés*, tous âgés d'une trentaine d'années, et se lancent courageusement dans l'ouverture, à Paris, d'un nouveau lieu consacré à la photographie : La Petite Poule Noire, "galerie de photographie contemporaine". Samuel Tissier et Pauline Guéna nous font faire le tour du propriétaire d'une galerie encore en chantier (ouverture prévue le 10 avril) : un tréteau, un trépied, et c'est parti ! Ils reviennent sur leur curieux nom de baptême, nous expliquent leur mode de fonctionnement, leurs choix artistiques et leurs parti-pris, leurs liens avec l'agence de photojournalisme MYOP, et nous présentent les travaux du photographe Oan Kim dont la série Je suis le chien pitié servira d'exposition inaugurale. C'est tout de suite et maintenant sur Morningmeeting !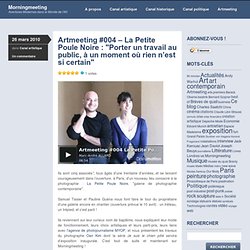 Artmeeting #004 – La Petite Poule Noire : « Porter un travail au
photojournalism: they show war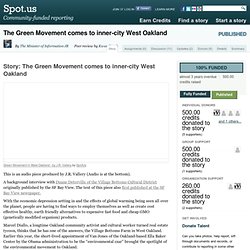 Story: The Green Movement comes to inner-city West Oakland
This is an audio piece produced by J.R. Vallery (Audio is at the bottom).
Dear visitors! Please note that on November 8 th and November 11 th the museum will close at 6 p.m. We are sorry for the inconvenience. Soon
Moscow House of Photography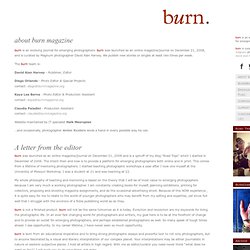 burn is an evolving journal for emerging photographers. burn was launched as an online magazine/journal on December 21, 2008, and is curated by Magnum photographer David Alan Harvey. We publish new stories or singles at least two times per week. The burn team is: David Alan Harvey - Publisher, Editor
About burn magazine
Hover over the image for navigation controls Igor Posner Notes from Underground play multimedia It started in 2006, a year when I returned to St. Petersburg for the first time in 14 years.
igor posner – notes from underground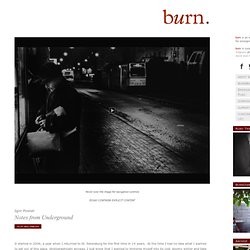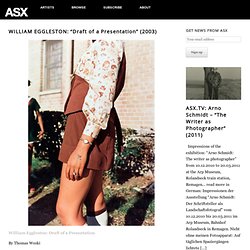 William Eggleston: Draft of a Presentation By Thomas Weski
THEORY: "William Eggleston - Draft of a Presentation (2003)"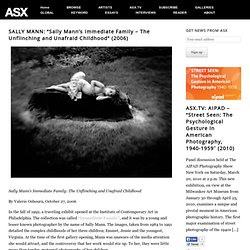 THEORY: "Sally Mann's Immediate Family: The Unflinching and Unaf
Sally Mann's Immediate Family: The Unflinching and Unafraid Childhood By Valerie Osbourn, October 27, 2006 In the fall of 1992, a traveling exhibit opened at the Institute of Contemporary Art in Philadelphia. The collection was called "Immediate Family", and it was by a young and lesser known photographer by the name of Sally Mann. The images, taken from 1984 to 1991 detailed the complex childhoods of her three children; Emmet, Jessie and the youngest, Virginia.
Translate