Nauka i kultura
World eBook Library
Muzeum Sztuki Nowoczesnej w Warszawie
Słuchowiska radiowe i audiobooki | sluchowisko.com
Providing online access to Europe's television heritage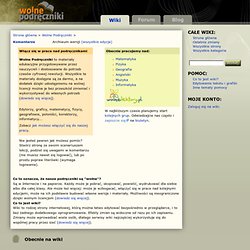 Wolne Podręczniki - Wolne Podręczniki
Włącz się w prace nad podręcznikami Wolne Podręczniki to materiały edukacyjne przygotowywane przez nauczycieli i dostosowane do potrzeb czasów cyfrowej rewolucji. Wszystkie te materiały dostępne są za darmo, a na dodatek dzięki udostępnieniu na wolnej licencji można je bez przeszkód zmieniać i wykorzystywać do własnych potrzeb (dowiedz się więcej). Edytorzy, graficy, matematycy, fizycy, geografowie, poloniści, korektorzy, informatycy...
Kurs PHP
Education using Technology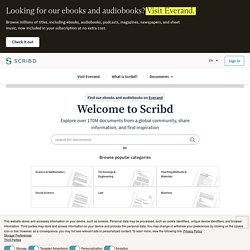 What do I get with my subscription? Your subscription enables you to read thousands of professionally published, popular books in a wide variety of genres on Scribd.com and on supported mobile devices. In addition, you will have full access to millions of user-contributed written works that have been published on Scribd like short stories and essays. How many books can I read each month? Read as much as you want, whenever you want. Scribd doesn't limit the number of books you can read.
Otwórz Książkę
Search Results - Search Yale Digital Commons
E-Books Directory - Categorized Books, Short Reviews, Free Downloads
My 4shared - shared folder - partage et stockage gratuits de fichiers
Katter är ett djur som nästan alltid får ströva fritt eftersom att katten är ett djur som mår bra av att få vistas utomhus och leva sitt liv lite som den vill för att må bra och trivas i ditt hem och hushåll. Därför är det också viktigt att man har ett katthalsband på katten ifall att den skulle komma för långt bort från hemmet och inte hitta tillbaka, då kan man fästa sitt namn och nummer i katthalsbandet så att den som hittar den kan kontakta dig så att ni kan hämta hem henne eller honom till er igen. Det är också bra att ha katthalsband om din katt strövar in på områden där den inte bör vara eftersom att då förstår markägaren eller husägaren att det inte är en vild eller herrelös katt utan att han eller hon har en husse eller matte som kan komma och hämta den och tar hand om den. Annars kan det bli så att någon annan familj tar in katten till sin familj och ni får aldrig se er katt igen, eller att de lämnar in den på ett djursjukhus eller ett katthem och ger dem ett nytt hem.