Startup
Remember house calls? Your chef's knife, carving knife, paring knives, steak knives, cheese knives, mower blades, scissors, spades, axes, saw, blades, or chisels are dull. Just call Sharp My Knife to enjoy the convenience of affordable and prompt mobile sharpening service from the comfort of your own home. No need to drop your knives off anywhere.
Sharp My Knife - Milton Ontario - Be Sharp, Not Dull ! - Home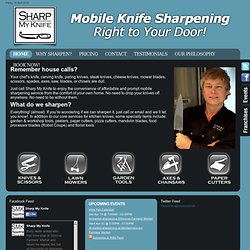 5 Lessons in Creativity from the Return of Ze Frank
Even when you don't have a lot of money or time, you still want a tasty meal, and mobile food businesses are uniquely positioned to provide it. Whether serving crepes from a splashily painted food truck, a bacon-wrapped hotdog from a push cart, or Baskin-Robbins ice cream from a franchised kiosk, food is going where consumers are. Even though street food is enjoying a resurgence, this is a tried-and-true business model that's fed generations of eaters. Today, there are approximately 3 million food trucks operating in the U.S., more than 5 million food carts, and an unknown number of kiosks. If you multiply the following six mobile options with the myriad cuisines and foods you can serve, possible locations, and the time of day you are open, your options for a mobile food business are endless. 1.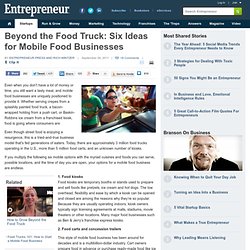 Beyond the Food Truck: Six Ideas for Mobile Food Businesses
2011 Trends: This Way Up | Slideshow
In his inauguration speech, President Obama paid homage to entrepreneurs. The path to greatness, he rhapsodized, has been paved by "the risk-takers, the doers, the makers of things--some celebrated but more often men and women obscure in their labor, who have carried us up the long, rugged path towards prosperity and freedom." Almost three years later, it's clear he was spot on. Entrepreneurship has been one of the precious few bright spots in a terribly gloomy economy, and this new generation of entrepreneurs, both intentional and accidental, has taken it upon themselves to keep things chugging along.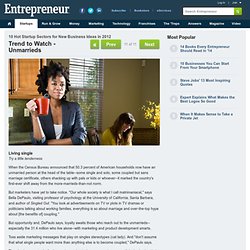 December truly is the most wonderful time of the year for small business owners. Besides the spurt in shopping activity, it's the time when business pundits provide predictions for next year's trends. I'm feeling pretty good about my track record in picking winners -- you can check out my 2011 predictions post. OK, maybe most businesses didn't splurge on IT this year, but there were definitely more IPOs, QR codes gained in popularity, and cloud-based software and services were huge. What changes in the business climate are just over the horizon as 2011 winds down? The overall economy is expected to grow just 2 percent, but your local mileage may vary.
Top 10 Small Business Predictions for 2012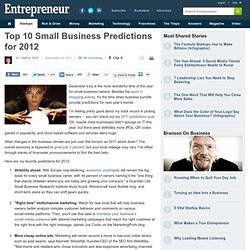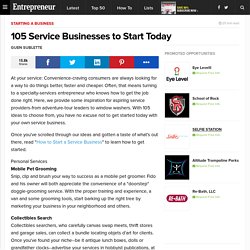 Page 2 105 Service Businesses to Start Today
At your service: Convenience-craving consumers are always looking for a way to do things better, faster and cheaper. Often, that means turning to a specialty-services entrepreneur who knows how to get the job done right. Here, we provide some inspiration for aspiring service providers-from adventure-tour leaders to window washers. With 105 ideas to choose from, you have no excuse not to get started today with your own service business.
Low Cost Business Ideas, Starting a Business - Entrepreneur.com
Whether you want to just make some extra money in your free time or desire to one day quit your day job and create a full-time business, starting a low-cost business on the weekend is an easy way to test the entrepreneurial waters. You'll need to invest little more than your time, and before long, you'll know if owning a business full time is the right choice for you. To help you get started, we've developed this list of 10 great businesses to start. No matter where your interests or talents lie, you'll be sure to find an idea that'll fit you like a glove. Party Balloon Service The demand for a party-balloon decorator is endless and certainly not limited to only children's birthday parties.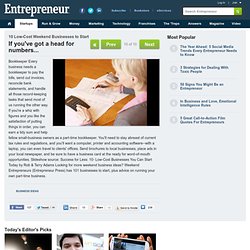 10 Low-Cost Weekend Businesses to Start | Slideshow
You can start any of these home based businesses for less than $5,000. 55 Surefire Home Based Businesses You Can Start for Under $5,000 Today, tens of thousands of people are considering starting a home based business , and for good reasons. On average, people can expect to have two and three careers during their work life.
Need a Business Idea? Here are 55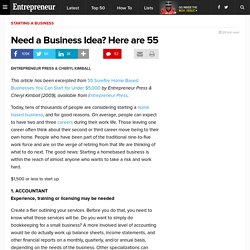 Ah, spring. It's a time of year when business picks up... just when the kids get out of school and it's harder to get work done. It's still important to use this time productively, even working in a little reading time while you hang with your family. This season, my business bookshelf is once again stacked high with interesting new books whose titles have intrigued me enough to keep them out of the donation pile. Among them are useful tomes out recently for wannabe business owners, as well as bootstrappers, innovators, and leaders of all stripes.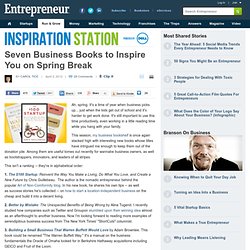 7 Intriguing Business Books to Inspire You on Spring Break
Electric power washer
Graffiti Removal | Business Idea Center
Business Overview Look anywhere and you're sure to find graffiti'walls, sidewalks, signs, and fences'making a graffiti removal service a very timely and in-demand start-up. Removing graffiti does not require a great deal of work experience. In fact, it can be learned on the job through trial and error.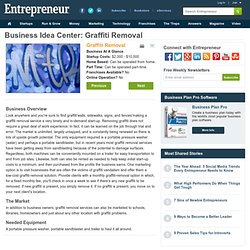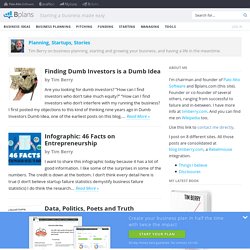 Planning Startup Stories —
Will Web Metrics Kill Professional Journalism? by Tim Berry The crumbling of mainstream journalism worries me. But am I just being nostalgic? Was it really that good in the past? The Portland Oregonian, one of the grand old daily newspapers they used to use an example when I was in J-school in 1971, and is still printing big paper newspapers every day, is changing...
Top 100 List Of Make Money at Home Blogs
Guest post by Lisa Regan, writer for The Lean Startup Conference. Our fall webcast series concluded on a high note with three extraordinary conversations about the origins and implications of Lean Startup. If you missed these when they went out live, we encourage you to watch them now, as they lay a strong foundation for The Lean Startup Conference, December 9 -11 in San Francisco—less than two weeks from today. You can also listen to any of the webcasts, which, at the suggestion of a webcast attendee, we've turned into podcasts you can stream or download (from iTunes or SoundCloud). None of the webcasts included slides, so the audio versions work really well.
Incorporation When do I need to incorporate a company? [It's been awhile since I wrote anything. I am giving a presentation to some of the founders in TheFunded Founder Institute on incorporating their companies, so... Read more » What type of entity should I form?
Profitable Small Business Ideas You Can Start Today