Faith
Sunday morning: Pro-lifers let worshippers know they attend a pro-choice church » Videos » ProLifeBook.com.
Pro-Life
Defenders of the Catholic Faith | Hosted by Stephen K. Ray | Author of "St. John's Gospel", "Upon This Rock", & "Crossing the Tiber" Peter Kreeft - Featured Audio. Recorded lectures from Dr.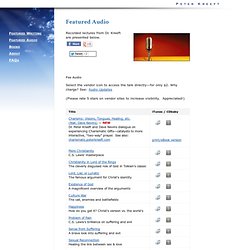 Kreeft are presented below. Fee Audio. The Catholic Key Blog. National Catholic Register | NCRegister.com. Catholic news, articles, blogs, books, and more. All Things Catholic. The Catholic Register - Canada's Catholic news source since 1893.
Catholic Online. Online Catholic News Portal | PewSitter.com | Audio, Video, Print. Popular Egyptian columnist demands Israel pay reparations for Biblical plagues ... more Pope Francis again condemns abortion and infanticide as 'unspeakable crimes ... more.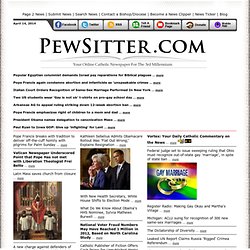 ---