Blacksmithing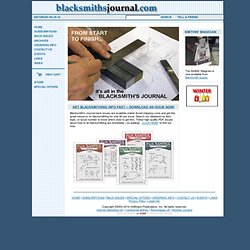 No matter what your skill level or interest in blacksmithing, the Blacksmith's Journal will most likely have something to offer you. Our features include tool making, architectural and decorative ironwork, hardware, design and layout, and basic techniques. You won't find another better comprehensive resource about the art of blacksmithing. Our step-by-step illustrations and shop drawings fully explain the task at hand while inspiring creative use of blacksmithing techniques. Ornamental blacksmiths set up and operate a coal or gas powered forge, anvil, and related equipment to make handcrafted ornamental products of wrought iron and steel, such as ornamental gates, chandeliers, fireplace screens, door hardware, and other decorative objects. .
Blacksmith's Journal - blacksmithing help and publications
Untitled Document
[ABANA] The Artist Blacksmith's Association of North America, Inc.
The Winner of the Alex Bealer Anvil Raffle was Randy Hodges of Manteo, NC. He was at the Convention and took it home with him. Click on the photo below to see the full sized picture. The ABANA Convention in Columbus Georgia and at Westville Village in Lumpkin Georgia on 15-17 March 2013 was enjoyed by all that attended, including the 8 Founding Members pictured here (Click on the photo below to see the full sized picture.