Blacksmithing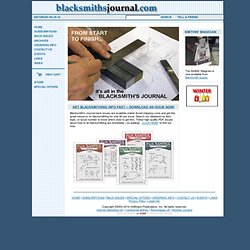 No matter what your skill level or interest in blacksmithing, the Blacksmith's Journal will most likely have something to offer you. Our features include tool making, architectural and decorative ironwork, hardware, design and layout, and basic techniques. You won't find another better comprehensive resource about the art of blacksmithing. Our step-by-step illustrations and shop drawings fully explain the task at hand while inspiring creative use of blacksmithing techniques. Ornamental blacksmiths set up and operate a coal or gas powered forge, anvil, and related equipment to make handcrafted ornamental products of wrought iron and steel, such as ornamental gates, chandeliers, fireplace screens, door hardware, and other decorative objects. .
Blacksmith's Journal - blacksmithing help and publications
Untitled Document
[ABANA] The Artist Blacksmith's Association of North America, Inc.
The Artist-Blacksmith's Association of North America (ABANA) ABANA is dedicated to perpetuating the noble art of blacksmithing. A blacksmith is one who shapes and forges iron with hammer and anvil. ABANA encourages and facilitates the training of blacksmiths; disseminates information about sources of material and equipment; exposes the art of blacksmithing to the public; serves as a center of information about blacksmithing for the general public, architects, interior designers, and other interested parties.