Version Control
VisualHG indicates file status within the project files tree of MSVCTracks adding, moving and renaming of file actionsGive you dialogs for committing changes, viewing detailed status of files and history and many more. Using TortoiseHG as its backendEverything directly from your workspace via context menu and a toolbarVersion 1.1.5 is compatible with MSVS 2005, MSVS 2008Version 1.1.6 is compatible with MSVS 2010, MSVS 2011 and MSVS 2013Support for Mercurial SubrepositoriesRecogonize projects under version control that are not in the same folder as the solutionFile status icon for renamed filesFile state indicating tooltipsView per file branch label in file tooltipSee some screenshots To learn more about Mercurial, TortoiseHG and VisualHG watch Rob Conery's excellent video tutorial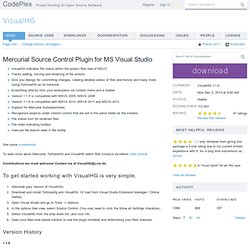 Mercurial Visual Studio Plugin
Supported Platforms Microsoft Windows XP, Vista, Windows 7 Command line support via thg Mac OS X port via source install Gnome/Nautilus integration Like TortoiseSVN, we recommend to turn off the indexing service on the working copies and repositories, and exclude them from virus scans. Mailing Lists For any questions or comments on TortoiseHg, please post to TortoiseHg's mailing lists: TortoiseHg discussion list: for general questions on TortoiseHg (gmane archive) TortoiseHg developers list: for development on TortoiseHg TortoiseHg issues list: for issue notifications (read-only)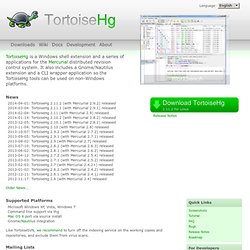 TortoiseHg
MS Team Server
Team Up Don't compromise on quality. Kiln makes it easy to get feedback, mentor team members, and improve the quality of your software. Another set of eyes on your code now means fewer bugs later.
Kiln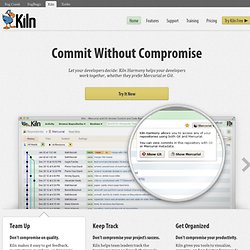 Version Control The first thing you'll notice: Distributed Version Control is just flat-out fast. Everything happens locally until you need to connect with other servers; when you do, that's fast and efficient, too. Veracity takes previously-scary or painful things like Branching, Merging and working Offline and makes them comfortable, powerful components of your everyday workflow.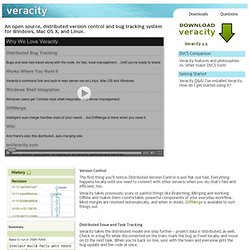 Veracity
Git Extensions is the only graphical user interface for Git that allows you control Git without using the commandline. It comes with a manual and video tutorials to get you started quickly. Features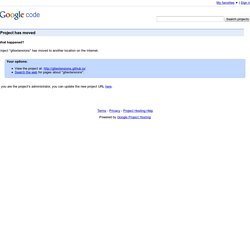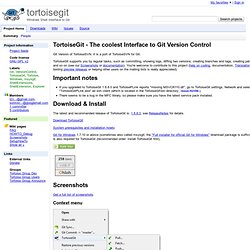 Git Version of TortoiseSVN. It is a port of TortoiseSVN for Git. TortoiseGit supports you by regular tasks, such as committing, showing logs, diffing two versions, creating branches and tags, creating patches and so on (see our Screenshots or documentation). You're welcome to contribute to this project (help on coding, documentation, Translation, testing preview releases or helping other users on the mailing lists is really appreciated).
Sign in to write a review Sort by: Since the Built in Microsoft Git Provider is very very slow, this Git Source Control Provider remain the best solution to integrate Visual Studio with Git. yeah,the author is a chinese coder? this plug-in is rubbish, you cannot push/pull/add/delete/compare/see history from inside VS. not what you expect from a SCCI EDIT: I just installed the latest version today and it blew away my Resharper registration in Visual Studio 2012.
Git Visual Studio Plugin