Version Control
Mercurial Visual Studio Plugin. TortoiseHg. MS Team Server. Assembla. Kiln. Team Up Don't compromise on quality.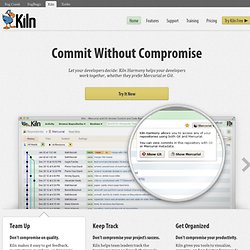 Kiln makes it easy to get feedback, mentor team members, and improve the quality of your software. Another set of eyes on your code now means fewer bugs later. Veracity. GitGUI. Git Extensions is the only graphical user interface for Git that allows you control Git without using the commandline.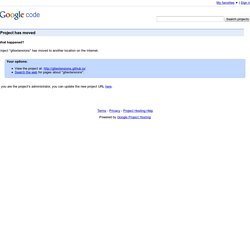 It comes with a manual and video tutorials to get you started quickly. Features. TortoiseGIT. Git Version of TortoiseSVN.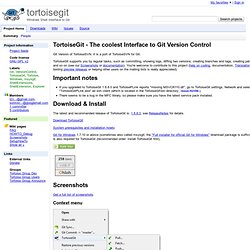 It is a port of TortoiseSVN for Git. TortoiseGit supports you by regular tasks, such as committing, showing logs, diffing two versions, creating branches and tags, creating patches and so on (see our Screenshots or documentation). You're welcome to contribute to this project (help on coding, documentation, Translation, testing preview releases or helping other users on the mailing lists is really appreciated). Git Visual Studio Plugin. Sign in to write a review Sort by: Since the Built in Microsoft Git Provider is very very slow, this Git Source Control Provider remain the best solution to integrate Visual Studio with Git. yeah,the author is a chinese coder?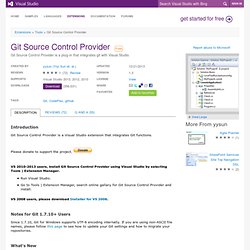 This plug-in is rubbish, you cannot push/pull/add/delete/compare/see history from inside VS. not what you expect from a SCCI EDIT: I just installed the latest version today and it blew away my Resharper registration in Visual Studio 2012.
---