Wordpress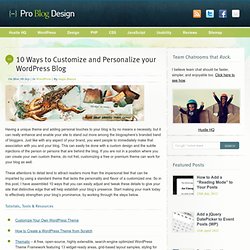 10 Ways to Customize and Personalize your Wordpress Blog | Pro B
Having a unique theme and adding personal touches to your blog is by no means a necessity, but it can really enhance and enable your site to stand out more among the blogosphere's branded band of bloggers. Just like with any aspect of your brand, you want people to immediately make that association with you and your blog. This can easily be done with a custom design and the subtle injections of the person or persons that are behind the blog. If you are not in a position where you can create your own custom theme, do not fret, customizing a free or premium theme can work for your blog as well. These attentions to detail tend to attract readers more than the impersonal feel that can be imparted by using a standard theme that lacks the personality and flavor of a customized one. So in this post, I have assembled 10 ways that you can easily adjust and tweak these details to give your site that distinctive edge that will help establish your blog's presence.
BytesForAll WordPress WP Themes
Web developers with social media savvy are in hot demand. Imagine what it would be like to promise your clients a web presence that is fully integrated with their Twitter strategy and makes it easier for their content to go viral on Twitter. Would be nice, no? Well — why imagine?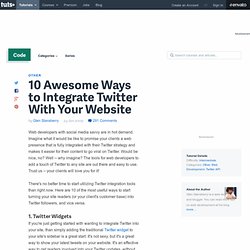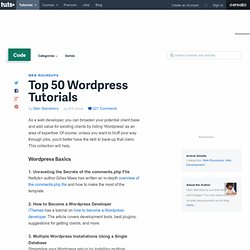 As a web developer, you can broaden your potential client base and add value for existing clients by listing 'WordPress' as an area of expertise. Of course, unless you want to bluff your way through jobs, you'd better have the skill to back-up that claim. This collection will help. WordPress Basics
WordPress Theme - Statement | Blog Oh Blog
Are you ready to make a statement with your blog ? Well, the new free WordPress theme from Blog Oh! Blog lets you do just that and more I am happy to release a new WordPress theme for all you hardcore bloggers called the "Statement". The theme features a nice and clean look with two sidebars on the right and a tabbed section (available in many premium themes nowadays) for recent posts, comments and archives.