Lifehacker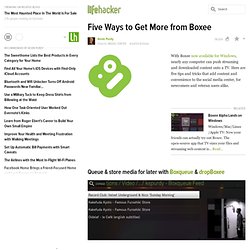 Five Ways to Get More from Boxee - Boxee - Lifehacker
With Boxee now available for Windows , nearly any computer can push streaming and downloaded content onto a TV. Here are five tips and tricks that add content and convenience to the social media center, for newcomers and veteran users alike. Queue & store media for later with Boxqueue & dropBoxee You come across cute, funny, and genius videos and songs all the time, but you're probably at your desktop rather than in your media room. These two clever apps utilize the open nature of Boxee, RSS, and drop.io 's file service to provide a passageway between "That's awesome!"
It's no wonder the majority of Lifehacker readers voted Remember the Milk the best web-based task manager out there. Remember the Milk 's got all the best features modern webapps have to offer: email/SMS/IM integration, tagging, advanced search, keyboard shortcuts and even offline access with Google Gears. Chances are you work across several computers and need a single, always-accessible place to consolidate your work, personal, school, and family to-do's. Remember the Milk is a great way to do just that.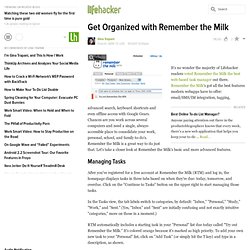 Get Organized with Remember the Milk - Email
Supercharge Google Reader with Send To Links - Google Reader - L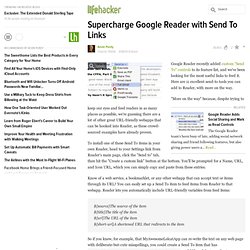 Google Reader recently added custom "Send To" controls to its feature list, and we've been looking for the most useful links to feed it. Here are 11 excellent send-to tools you can add to Reader, with more on the way. "More on the way" because, despite trying to keep our eyes and feed readers in as many places as possible, we're guessing there are a lot of other great URL-friendly webapps that can be hooked into Reader, as these crowd-sourced examples have already proven. To install one of these Send To items in your own Reader, head to your Settings link from Reader's main page, click the "Send to" tab, then hit the "Create a custom link" button at the bottom.
Google Chrome has come a long way in the past year , steadily adding subtle but useful features for power users. Let's take a fresh look at Chrome's current offerings—especially for those willing to brave its early developer builds. Not long after Chrome's release, our 2008 Chrome Power User's Guide covered its best features for savvy surfers, such as keyboard shortcuts and startup switches. We won't rehash those here; instead we're going to round up the new stuff that's come out since in both the stable and developer build of Chrome. (For reference, as of writing, the stable build of Google Chrome is version number 3.0.195.27, and the developer release is version 4.0.222.12.) Turn Chrome into a Site-Specific Browser with Application Shortcuts
The Power User's Guide to Google Chrome, 2009 Edition - Chr