Info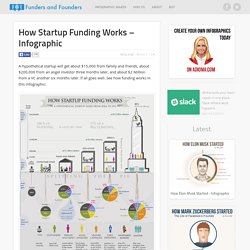 A hypothetical startup will get about $15,000 from family and friends, about $200,000 from an angel investor three months later, and about $2 Million from a VC another six months later. If all goes well. See how funding works in this infographic: First, let's figure out why we are talking about funding as something you need to do.
Chinese Hackers Infiltrate New York Times Computers
After surreptitiously tracking the intruders to study their movements and help erect better defenses to block them, The Times and computer security experts have expelled the attackers and kept them from breaking back in. The timing of the attacks coincided with the reporting for a Times investigation , published online on Oct. 25, that found that the relatives of Wen Jiabao, 's prime minister, had accumulated a fortune worth several billion dollars through business dealings. Security experts hired by The Times to detect and block the computer attacks gathered digital evidence that Chinese hackers, using methods that some consultants have associated with the Chinese military in the past, breached The Times's network. They broke into the e-mail accounts of its Shanghai bureau chief, David Barboza, who wrote the reports on Mr.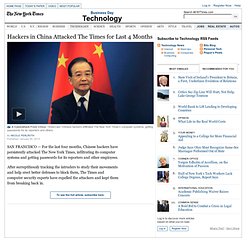 The U.S. Department of Homeland Security has warned users to disable or uninstall Java software on their computers, amid continuing fears and an escalation in warnings from security experts that hundreds of millions of business and consumer users are vulnerable to a serious flaw. Hackers have discovered a weakness in Java 7 security that could allow the installation of malicious software and malware on machines that could increase the chance of identity theft, or the unauthorized participation in a botnet that could bring down networks or be used to carry out denial-of-service attacks against Web sites. "We are currently unaware of a practical solution to this problem," said the DHS' Computer Emergency Readiness Team (CERT) in a post on its Web site on Thursday evening . " This vulnerability is being attacked in the wild, and is reported to be incorporated into exploit kits. Exploit code for this vulnerability is also publicly available."
Homeland Security warns to disable Java amid zero-day flaw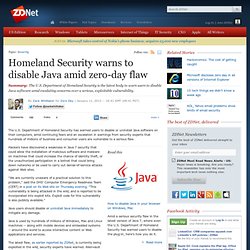 Blog - ecommerce insights - Blog - Discounts...Get the Inside Scoop
We all know that the winter holidays are the busiest shopping period of the year and the time that retailers offer the biggest discounts, but did you know Tuesdays were the day to find the best deals? Over at SumAll we've uncovered some other surprising, less obvious discount trends to help small online businesses compete with the big guys. Sliced and diced by best shopping holidays, months, regions and even age of business, this insight will benefit online retailers and consumers alike.
This image is a "balloon race". The higher a bubble, the greater the evidence for its effectiveness. But the supplements are only effective for the conditions listed inside the bubble . You might also see multiple bubbles for certain supps. These is because some supps affect a range of conditions, but the evidence quality varies from condition to condition. For example, there's strong evidence that Green Tea is good for cholesterol levels.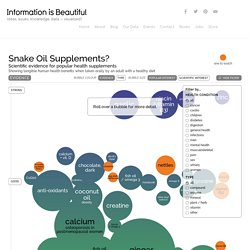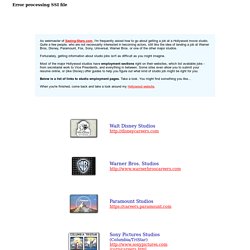 Hollywood Studio Jobs
As webmaster of Seeing-Stars.com , I'm frequently asked how to go about getting a job at a Hollywood movie studio. Quite a few people, who are not necessarily interested in becoming actors, still like the idea of landing a job at Warner Bros, Disney, Paramount, Fox, Sony, Universal, Warner Bros or one of the other major studios. Fortunately, getting information about studio jobs isn't as difficult as you might imagine. Most of the major Hollywood studios have employment sections right on their websites, which list available jobs - from secretarial work to Vice Presidents, and everything in between. Some sites even allow you to submit your resume online, or (like Disney) offer guides to help you figure out what kind of studio job might be right for you. Below is a list of links to studio employment pages.
leo films 8-08
Hollywood Literary/Talent Agents: Address, phone number, Names a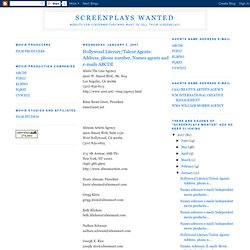 Above The Line Agency 9200 W. Sunset Blvd., Ste. 804 Los Angeles, CA 90069 (310) 859-6115 http://www.anet.net/~rima/agency.html Rima Bauer Greer, President rima@anet.net Abrams Artists Agency 9200 Sunset Blvd, Suite 1130 West Hollywood, CA 90069 (310) 859-0625 275 7th Avenue, 26th Flr.
TriggerStreet.com
SCREENPLAYS WANTED
January 2007
Lee Daniels Entertainment 39 W. 131st Street, Ste. 2 New York, NY 10037 (646) 548-0930 http://www.leedanielsentertainment.com Lee Daniels, CEO leedaniels@leedanielsentertainment.com Lisa Cortes lisa@leedanielsentertainment.com Dave Robinson dave@leedanielsentertainment.com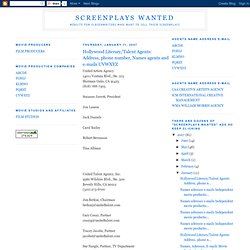 INFOLIST