Un blog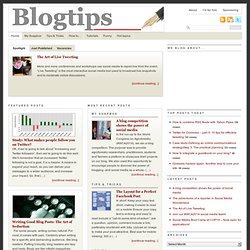 Featured Posts Study: What makes people follow you on Twitter? OK, if we're going to talk about "Increasing your Twitter followers", then we're going to do this well: We'll remember that an increased Twitter following is not a goal, it is a means. A means to expand your reach, so you can deliver your messages to a wider audience, and increase your impact. So, first (…) Writing Good Blog Posts: The Art of Seduction
Blog Tips
SEO Chat Forums - Search Engine Optimization
5 Basic Tips to Increase Backlinks.. by SEO Tricks and Tips
We will learn HOW TO MAKE MONEY FROM BLOGGING Here are some link building tips and tricks In my blog you can see many SEO Tips, SEO Tricks, Blogging tips and more.
SEO Forums: Search Engine Optimization and Marketing Forums | SEO.com
Almost every blogger is familiar with discussion forums and take active part in it. They are a good source to learn and share the knowledge. Some popular discussion forums also send huge traffic to blogs. If you want to take your blog to the next level, then you must join these forums.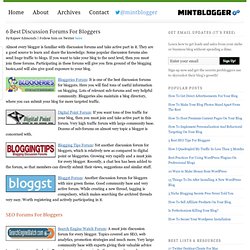 10+ Best Discussion Forums For Bloggers
Blogging Forums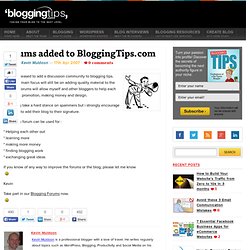 I'm very pleased to add a discussion community to blogging tips. Whilst my main focus will still be on adding quality material to the blog, the forums will allow myself and other bloggers to help each other with promotion, making money and design. I am going take a hard stance on spammers but i strongly encourage everyone to add their blog to their signature. I hope this forum can be used for :
Search Engine Optimization Forum
Authority Blogger
Bloggers Discussion Community
Stay-at-home moms basically have an essential role of raising their kids. Making some extra cash while at home can be useful to the whole family. There are various reasons why moms choose to stay at home.
Blogging Tips | eQuickTips.com
Blogging Tips - Affiliate Marketing
Blogging Tips: Como Generar Mas Trafico en el Blog (Continuidad / Eleccion de Temas)
Make Money Online and Blogging Tips – SmartBloggerz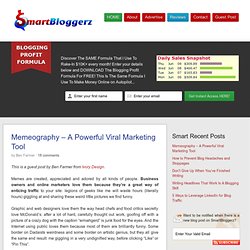 This is a guest post by Ben Farmer from Ivory Design. Memes are created, appreciated and adored by all kinds of people. Business owners and online marketers love them because they're a great way of enticing traffic to your site: legions of geeks like me will waste hours (literally hours) giggling at and sharing these weird little pictures we find funny.
Mastering the Art of the Upsell Within Your Business August 05th, 2013 / Blogging Tips, General Blogging / Comments Off If you have started your new business, you have undoubtedly realized by now that you can make more sales when you are marketing several products together. Many of your customers will be tempted to purchase more at one time if you have related products, and the key to making more sales and gaining more profit is selling more at one time. In a perfect world, most of your sales will be made this way, and you will be making a much higher profit margin by selling more products in larger groups by doing this. Click here to read the full blog post!
Blogging & Blog Tips from Blogsessive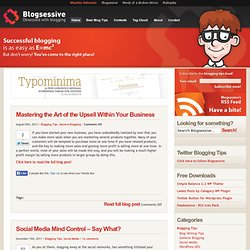 Blogging Tips & Tricks, Blogging Tips & Help, Blogging Guide – Blogging Junction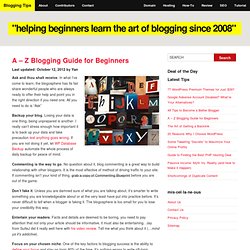 Blogging Tips for Beginners
Ask and thou shalt receive. In what I've come to learn, the blogosphere has its fair share wonderful people who are always ready to offer their help and point you in the right direction if you need one. All you need to do is "Ask" Backup your blog. Losing your data is one thing, being unprepared is another. I really can't stress enough how important it is to back up your data and take precaution lest anything goes wrong.
Blog Tips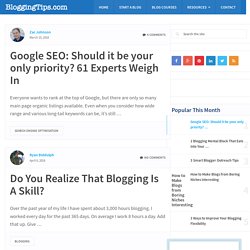 Meet Darren Rowse of ProBlogger.net 25 Jan 2014 Darren Rowse of Problogger.net really needs no introduction, but I am apt to give you a short one anyway! If you've ever done any research online about wordpress or blogging, you've most likely come across Problogger.net, which is one of the world's most popular blogs and ultimate resources for everything blogging. Not only have I personally been an active reader on his site for many years now, but I've also had the opportunity to meet and speak with Darren on a few blogging panels.
Blog Tips for a Better Blog — Blog Building University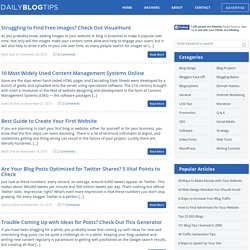 [Mistakes #7] Five Mistakes Bloggers Make with Guest Post Pitches This is the 7th post in our Mistakes series. If there's a topic you'd like to see us cover in this series (or one you'd like to guest post on) then please email ali@dailyblogtips.com. As editor of DailyBlogTips, I get a lot of guest post pitches. And I'm sad to say that at least 90% […]