Art
Wire Sculpture
Make an Awesome Lamp Out of Plastic Cups
This is What Happens When You Give Thousands of Stickers to Thousands of Kids
This December, in a surprisingly simple yet ridiculously amazing installation for the Queensland Gallery of Modern Ar, artist Yayoi Kusama constructed a large domestic environment, painting every wall, chair, table, piano, and household decoration a brilliant white, effectively serving as a giant white canvas. Over the course of two weeks, the museum's smallest visitors were given thousands upon thousands of colored dot stickers and were invited to collaborate in the transformation of the space, turning the house into a vibrantly mottled explosion of color. How great is this? Given the opportunity my son could probably cover the entire piano alone in about fifteen minutes.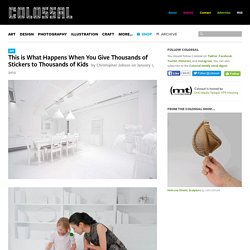 starrynight_vangogh_big.jpg (JPEG Image, 1879x1500 pixels) - Scaled (40
Nick Gentry | Art of contribution
William Bennett Gallery - Salvador Dali - Alice's Adventures in Wonderland Portfolio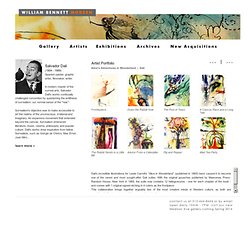 Salvador Dali(1904 - 1989) Spanish painter, graphic artist, filmmaker, writer. A modern master of the surreal arts, Salvador Dali's works continually challenged convention by questioning the antithesis of surrealism: our normal sense of the "real." Surrealism's objective was to make accessible to art the realms of the unconscious, irrational and imaginary. An expansive movement that extended beyond the canvas, Surrealism embraced literature, music, cinema, philosophy and popular culture.
Letter from Mick Jagger to Andy Warhol, 1969
Galleries: Cat by Yoshitomo Nara from Galleri Bo Bjerggaard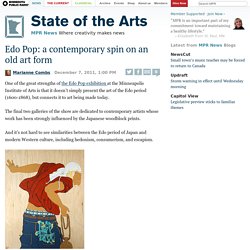 Edo Pop: a contemporary spin on an old art form | State of the Arts
Posted at 1:00 PM on December 7, 2011 by Marianne Combs Filed under: Museums One of the great strengths of the Edo Pop exhibition at the Minneapolis Institute of Arts is that it doesn't simply present the art of the Edo period (1600-1868), but connects it to art being made today. The final two galleries of the show are dedicated to contemporary artists whose work has been strongly influenced by the Japanese woodblock prints. And it's not hard to see similarities between the Edo period of Japan and modern Western culture, including hedonism, consumerism, and escapism. {*style:<i>One for the Money, Two Faux the Show (Still Pimpin'), after Katsukawa Shun'ei's The Actor Ichikawa Komazo III, 2006