Change agents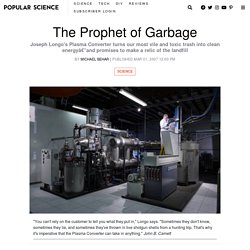 The Prophet of Garbage
Joseph Longo's Plasma Converter turns our most vile and toxic trash into clean energy-and promises to make a relic of the landfill By Michael Behar Posted 03.01.2007 at 3:00 am The Plasma Converter John B. Carnett
Purring Frequencies for Healing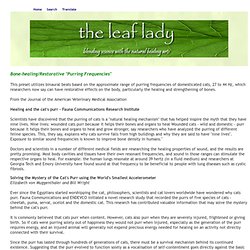 This preset utilizes binaural beats based on the approximate range of purring frequencies of domesticated cats, 27 to 44 Hz, which researchers now say can have restorative effects on the body, particularly the healing and strengthening of bones. From the Journal of the American Veterinary Medical Association Healing and the cat's purr - Fauna Communications Research Institute Scientists have discovered that the purring of cats is a "natural healing mechanism" that has helped inspire the myth that they have nine lives. Nine lives: wounded cats purr because it helps their bones and organs to heal Wounded cats - wild and domestic - purr because it helps their bones and organs to heal and grow stronger, say researchers who have analyzed the purring of different feline species. This, they say, explains why cats survive falls from high buildings and why they are said to have "nine lives". Exposure to similar sound frequencies is known to improve bone density in humans."
On Rosa Parks' 100th Birthday, Recalling Her Rebellious Life Before and After the Montgomery Bus
Home - Progressive Radio Network
George Washington Carver's Biography
A Voice for Indigenous Issues, Concerns, Cultures and Customs | FVIR
Mike Malloy Radio Show : Progressive Radio : Online Video Streaming : The Best In Nighttime Liberal Talk! M-F 9pm-12am.
WBAI, New York - 99.5 FM Pacifica Radio - Home