Bibliotek
15 Spectacular Libraries in Europe
By Ben Showers
The Constant Innovator: The Academic Library as a Model of Change Management | Backtalk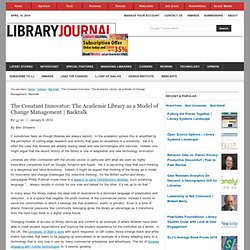 Sociala medier på biblioteken
En av våra utgångspunkter är att rummet, det fysiska biblioteket, kan kompletteras med det digitala biblioteket. Kanske skulle man till och med på sikt kunna tala om en "interfoliering" mellan dessa. Utan att just här exakt gå in på hur ett digitalt bibliotek skulle kunna fungera, så är grundidén att ett sådant bibliotek skulle kunna organisera en rad resurser som bedöms vara av värde för elevernas lärande och som lätt görs tillgängliga genom samsök.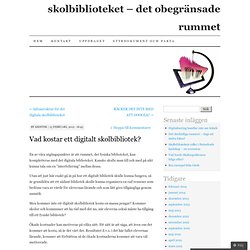 Vad kostar ett digitalt skolbibliotek? | skolbiblioteket – det obegränsade rummet
Det finns över en halv miljon appar att välja mellan i Appstore, och nästan lika många i Google Play, som Android Market heter numera! Så visst kan man väl behöva lite tips om vilka som faktiskt är värda att ladda ner? Här tipsar våra utbildare om några av deras favoritappar.
| Kompetensutveckling för Stockholms stadsbiblioteks personal
The financial pressures facing libraries today are arguably the most challenging for years, with cuts and closures making the headlines. What is less evident is the way that libraries are tackling the challenges they face through radical new ways of working: merging services across authorities, forging new partnerships, and moving into community management. Peers and colleagues working in library services across local government represent a huge pool of untapped knowledge. Finding a way to access this knowledge is an essential plank in the foundation of a new age of libraries. While individual library professionals have been generous with their experience for years, some library authorities have put this on a more formal footing by setting up library consortiums; 15 London boroughs make up the London Libraries Consortium, and five west of England councils have now formed the LibrariesWest Consortium.
Redesigning libraries for today's climate and tomorrow's needs | Local government network | Guardian Professional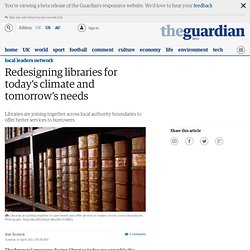 Editor's note: This guest post was written by Richard Price, founder and CEO of Academia.edu — a site that serves as a platform for academics to share their research papers and to interact with each other. Almost every technological and medical innovation in the world has its roots in a scientific paper. Science drives much of the world's innovation. The faster science moves, the faster the world moves. Progress in science right now is being held back by two key inefficiencies:
The Future of Science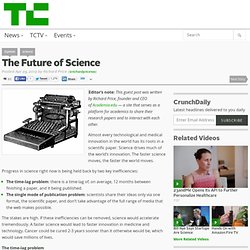 Before the grammar police break down my door, allow me to defend my use of "gamifying". If "gamification" can have its own Wikipedia page, and no less of a respectable source than National Public Radio can use it, then I think I'm good. So save your vitriol for those using "cyberspace". I mean, srsly. Librarian gamers have long worked to bring gamers into the library through such offerings as "game nights" at the library. But what if you could make using the library a game in itself?
Gamifying Your Library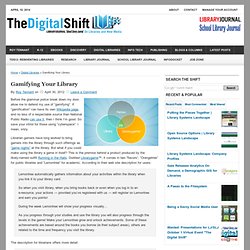 Exploring WSD Discovery Layers While the central index is the heart of any WSD service, the discovery layer is the public face. So long as the results list contains a smattering of good hits, users' responses to the WSD service are likely to be based solely on their experience with the interface.
FEATURE: The Ins and Outs of Evaluating Web-Scale Discovery Services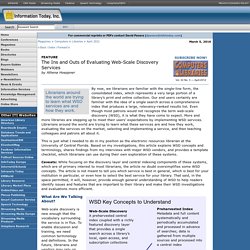 Idébiblioteket - home
Sorry, but the article or page you're looking was not found. In May 2013, Library Journal underwent a major server migration for its archived web content, which happened slightly sooner than originally expected. As a result, much of the content from 2004 to 2012 is currently unavailable to the public. However, this content has not been lost, and our web staff is in the process of converting these past articles for integration into the WordPress-based website you see here, which was launched in 2012. Many of these older articles have already been restored, and more will continue to be restored on an ongoing basis as they are cleaned up.
Future of the Academic Library Symposium: Service To Continue, but in What Form? Around the Web: A library for human capital, Talking about search & discovery, Why libraries still matter and more : Confessions of a Science Librarian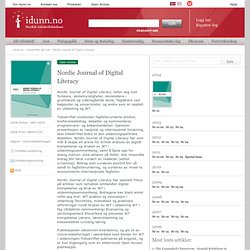 Nordic Journal of Digital Literacy - tidsskrifter - idunn.no - tidsskrifter på nett
Nordic Journal of Digital Literacy retter seg mot forskere, skolemyndigheter, skoleledere i grunnskole og videregående skole, faglærere ved høgskoler og universiteter, og andre som er opptatt av utdanning og IKT.
ILS - Informations- och lånecentraler i samverkan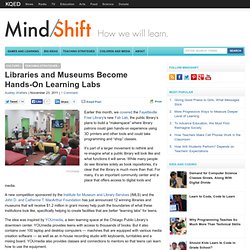 Culture Teaching Strategies YOUmedia Earlier this month, we covered the Fayetteville Free Library's new Fab Lab, the public library's plans to build a "makerspace" where library patrons could gain hands-on experience using 3D printers and other tools and could take programming and "shop" classes.
Libraries and Museums Become Hands-On Learning Labs
Dewey Decimal Classification / Summaries
Mobile Libraries
Stephen's Lighthouse: APIs and Libraries
When I look back at the plight of American research libraries in 2010, I feel inclined to break into a jeremiad. In fact, I want to deliver three jeremiads, because research libraries are facing crises on three fronts; but instead of prophesying doom, I hope to arrive at a happy ending. I can even begin happily, at least in describing the state of the university library at Harvard.
The Library: Three Jeremiads by Robert Darnton
rdf.deichman.no
Presentasjon om semantiske data og Koha | Libriotech
Librarian of Fortune
När jag var liten drömde jag om att bli spion. Vad kunde vara mer spännande än att få sitta i ödsliga kyrkor och muttra fram "Spring is early in Moscow this year" och få med sig jättesuperhemliga papper därifrån? Men supermakterna grusade med gemensamma krafter mina karriärplaner, och i ren besvikelse jobbade jag med allt från att blanda drinkar till att skriva manus, tills jag för ett knappt år sen kom till det digitala biblioteket.
Digitala Biblioteket SSB
.:: TAM-Arkiv ::. Medlemsservice
Open access i Sverige | Kungliga bibliotekets blogg för alla som arbetar med open access i Sverige
About a year ago, I got a memo about technologies that campus will no longer support in classrooms.
Libraries : Grow Blog
Sjukhusbiblioteken i Värmland
Perceptions of public libraries in Africa: research + results = change
Harnessing the potential of public libraries for community development Public libraries are uniquely positioned to change lives and build strong communities.
The Library Minute: The Social Connection - a must for all libraries! | Social Networking for Information Professionals | Scoop.it
Kirjastokaista
Is the Line Between Librarianship and Journalism Blurring?
What do journalists and librarians have in common? How can collaboration on their common ground make libraries and the media better for our democracy? More than 125 attendees worked on these questions for two days in April at the first-ever conference of its kind—"Beyond Books: News, Literacy, Democracy, and America's Libraries"—immediately preceding the National Conference for Media Reform in Boston. The group was convened by Journalism That Matters, a Seattle-based organization dedicated to making the media more accessible, diverse, and conducive to civic engagement.
Ny "stjärnkikare" kan avslöja framtidens Nobelpristagare - Vetenskap & miljö
Bookless Library Trend: Designing Space for Digital Learning
libraryassessment.info : A blog for and by librarians interested in library assessment, evaluation, and improvement supported by the Association of Research Libraries
New Friday Fun
Världens 20 vackraste *moderna* bibliotek - mymarkup. Samtidsobservatorium
How to Clip, Sort, and Cite the Entire Web with Zotero
Våra svenska dialekter - SweDia 2000
Library 2.0: Not Just for Users
Phil Bradley:Internet search, Librarians, search engines, web search
LibraryThing | Catalog your books online
Betabarn - Hjem
Praktiska Open Source-verktyg för bibliotek
3 stages of library websites ...
Socialamedierobibliotek openspace
What's Your Story?: Dutch Library DOK's New Cutting-edge Community Tech Projects
ACRL Value of Academic Libraries | An initiative from the Association of College and Research Libraries
Practical Open Source Software for Libraries
U Texas San Antonio Opens Bookless Library
DeweyDigger
should academic libraries default conservative on discovery systems?
"Open Source Software Libraries" by Sherry Lochhaas and Melissa Moore
Special Issue of 'The Reference Librarian' – Papers from the Handheld Librarian Conferences
3 | Yleinen suomalainen ontologia - YSO/ALLSO
A SWOT Analysis for Social Media in Libraries | Online | Find Articles at BNET
E-journals: their use, value and impact - final report
How We Know by Freeman Dyson
The Hyperlinked Library: A TTW White Paper