NTIC et droit (général)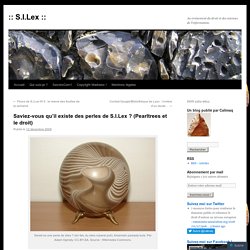 Serait-ce une perle de silex ? (en fait, du silex rubané poli). Krzemień pasiasty kula. Par Adam Ognisty. CC-BY-SA. Source : Wikimedia Commons.
Every age has its potential regulator, its threat to liberty. Our founders feared a newly empowered federal government; the Constitution is written against that fear. John Stuart Mill worried about the regulation by social norms in nineteenth-century England; his book On Liberty is written against that regulation. Many of the progressives in the twentieth century worried about the injustices of the market. The reforms of the market, and the safety nets that surround it, were erected in response.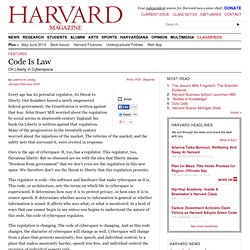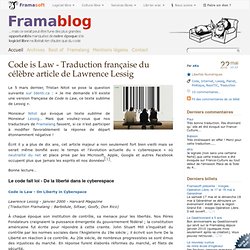 Le 5 mars dernier, Tristan Nitot se pose la question suivante sur Identi.ca : « Je me demande s'il existe une version française de Code is Law, ce texte sublime de Lessig ». Monsieur Nitot qui évoque un texte sublime de Monsieur Lessig… Mais que vouliez-vous que nos traducteurs de Framalang fassent, si ce n'est participer à modifier favorablement la réponse de départ étonnamment négative ! Écrit il y a plus de dix ans, cet article majeur a non seulement fort bien vieilli mais se serait même bonifié avec le temps et l'évolution actuelle du « cyberespace » où neutralité du net et place prise par les Microsoft, Apple, Google et autres Facebook occupent plus que jamais les esprits et nos données[1] Bonne lecture… Le code fait loi - De la liberté dans le cyberespace Code is Law - On Liberty in Cyberspace