Enterprise Architecture Enterprise Architecture - The Value Proposition
Every organization has one.
ISO/IEC/IEEE 42010 Systems and software engineering — Architecture description is an international standard for architecture descriptions of systems and software. [ edit ] Overview ISO/IEC/IEEE 42010 defines requirements on the description of system, software and enterprise architectures.
ISO/IEC 42010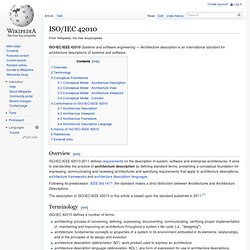 define:Enterprise architecture
ArchiMate/OpenGroup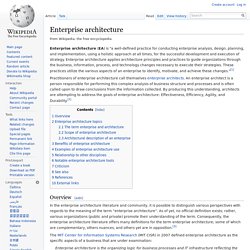 Enterprise architecture (EA) is the process of translating business vision and strategy into effective enterprise change by creating, communicating and improving the key requirements, principles and models that describe the enterprise's future state and enable its evolution. [ 1 ] Practitioners of EA call themselves enterprise architects . An enterprise architect is a person responsible for performing this complex analysis of business structure and processes and is often called upon to draw conclusions from the information collected. By producing this understanding, architects are attempting to address the goals of Enterprise Architecture: Effectiveness, Efficiency, Agility, and Durability. [ 2 ] [ edit ] Definition
GODS One PAge Business Architecture v3.gif (GIF Image, 960×720 pixels)
Enterprise Architecture & TOGAF
A generic Business Architecture
What are the essential parts of an Enterprise? At the beginning of the '80es, Michael Porter suggested that any Enterprise consists of two categories of activities: Primary activities, which are the operational processes that deliver the product such as inbound logistics, Operations.