Enterprise Architecture
ISO/IEC/IEEE 42010 Systems and software engineering — Architecture description is an international standard for architecture descriptions of systems and software. Overview[edit] ISO/IEC/IEEE 42010 defines requirements on the description of system, software and enterprise architectures.
ISO/IEC 42010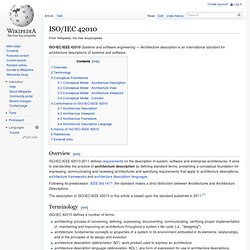 define:Enterprise architecture
ArchiMate/OpenGroup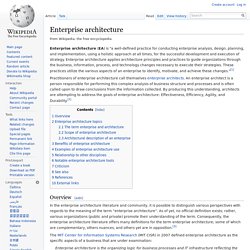 Enterprise architecture (EA) is "a well-defined practice for conducting enterprise analysis, design, planning, and implementation, using a holistic approach at all times, for the successful development and execution of strategy. Enterprise Architecture applies architecture principles and practices to guide organizations through the business, information, process, and technology changes necessary to execute their strategies. These practices utilize the various aspects of an enterprise to identify, motivate, and achieve these changes."[1]
GODS One PAge Business Architecture v3.gif (GIF Image, 960×720 pixels)
Enterprise Architecture & TOGAF
A generic Business Architecture
What are the essential parts of an Enterprise? At the beginning of the '80es, Michael Porter suggested that any Enterprise consists of two categories of activities: Primary activities, which are the operational processes that deliver the product such as inbound logistics, Operations.