Nutrition
LIVESTRONG.COM - Health, Fitness, Lifestyle. The Guide: Nutrition. How do we return to the notion that meat, fish, poultry, cheese, and dairy should be designated as occasional treats, not staples?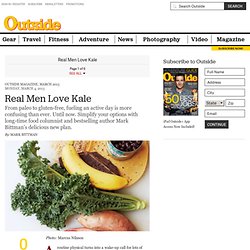 A routine physical turns into a wake-up call for lots of people. Six years ago it was my turn. The numbers were in, and they were bad. Weight, cholesterol, and glucose were all up, and there were other symptoms—apnea, bad knees, and a couple of things I won't talk about—that were equally discouraging. Glycemic Index. ND's Fullness Factor™ is an alternative to the Glycemic Index...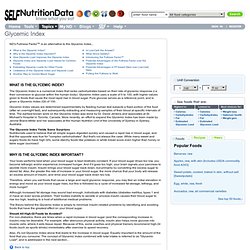 What is the Glycemic Index? The Glycemic Index is a numerical Index that ranks carbohydrates based on their rate of glycemic response (i.e. their conversion to glucose within the human body). Glycemic Index uses a scale of 0 to 100, with higher values given to foods that cause the most rapid rise in blood sugar. The World's Healthiest Foods. 100 foods that can serve as the basis of your Healthiest Way of Eating.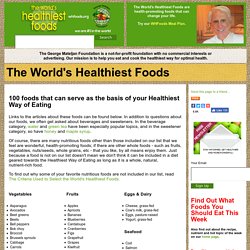 Links to the articles about these foods can be found below. In addition to questions about our foods, we often get asked about beverages and sweeteners. In the beverage category, water and green tea have been especially popular topics, and in the sweetener category, so have blackstrap molasses, honey and maple syrup.
---