Patterns
Free Pattern: Tiny Baby Bunnies. Need a last minute egg-stuffer for Easter?
These mini-marshmallow-size bunnies are the ultimate scrap yarn project, and can be whipped up in just a few minutes! Use sock yarn as shown, or scale the project up by using thicker yarn and larger needles for a bigger bunny. Hip Hop Blanket :: Etsy Blog. When was the last time you picked up your knitting needles?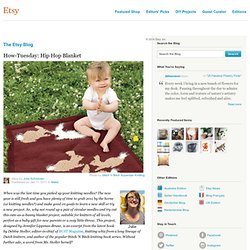 The new year is still fresh and you have plenty of time to grab 2011 by the horns (or knitting needles?) And make good on goals to learn a new skill or try a new project. So, why not round up a pair of circular needles and try out this cute-as-a-bunny blanket project, suitable for knitters of all levels, perfect as a baby gift for new parents or a cozy little throw. This project, designed by Jennifer Lippman-Bruno, is an excerpt from the latest book by Debbie Stoller, editor-in-chief of BUST Magazine, knitting whiz from a long lineage of Dutch knitters, and author of the popular Stitch 'N Bitch knitting book series. Smaller: Small craft- Zsa mask. We are really excited about this cool hat project!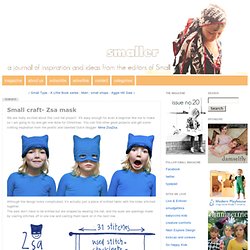 It's easy enough for even a beginner like me to make so I am going to try and get one done for Christmas. You can find other great projects and get some crafting inspiration from the prolific and talented Dutch blogger- Mme ZsaZsa. Lovely Leaf Lace Scarf. This Lovely Leaf Lace scarf is made with Lobster Pot's 8-ply cashmere in color "Chatham Light".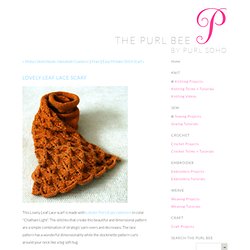 The stitches that create this beautiful and dimensional pattern are a simple combination of strategic yarn-overs and decreases. The lace pattern has a wonderful dimensionality while the stockinette pattern curls around your neck like a big soft hug. If you're curious about the green scarf on the left you can find the complete instructions for it at this link: Ravelry. Now includes adult large size!
A set of whimsical mittens in four sizes to keep warm the hands of all ages! Perfect for bitterly cold day or impromptu puppet shows, these mittens would make great gifts for kids (or adults!) Ravelry. Blog : CRAFT Pattern: Pumpkin Cozy. If you carve your Halloween pumpkin into a jack-o-lantern too early, it'll be shriveled and rotten by the time of the big night, and that's no treat!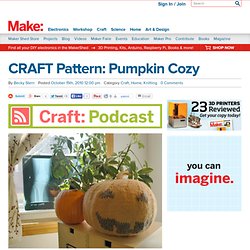 Knit this pumpkin cozy in the meantime. This project is great for practicing increases and decreases. Adjust the size by knitting fewer or more increase rows and easily customize it for your pumpkin, or knit one up first and bring it with you to the patch. The pattern fits a pumpkin approximately 11″ in diameter as written. Knitting help has a great section on increases and decreases. Parallax Knitting · Lyra's cap. Download the pattern here I was so smitten by the costumes in the Golden Compass, and for this cap at least, one wonders: how often can something so desirable be achieved so easily?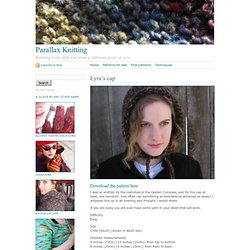 I whipped this up in an evening and thought I would share. If you are lucky you will even have some yarn in your stash that will work. Difficulty Easy. 35 mm. Fresh from the Knitty rejection pile!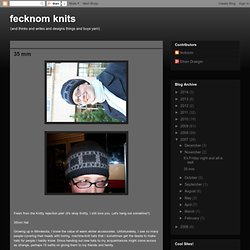 (It's okay Knitty, I still love you. Let's hang out sometime?) 35mm Hat Growing up in Minnesota, I know the value of warm winter accessories. Unfortunately, I see so many people covering their heads with boring, machine-knit hats that I sometimes get the desire to make hats for people I hardly know. Knitty.com. Editorial spring 06. Note: To make this pattern easier to understand, the predominantly yellow (MC) side will be called the RS, and the predominantly black (CC) side will be called the WS.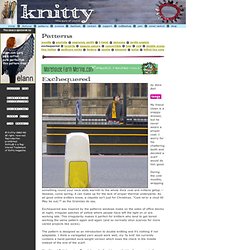 CO 48 stitches using CC. I recommend using a cable cast on, but a tubular cast on is also nice for double knitting. Who? It's a hat with owls!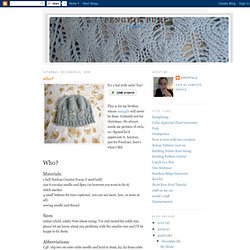 Yay! This is for my brother, whose mangyle will never be done. Certainly not for christmas. He always sends me pictures of owls, so i figured he'd appreciate it. Anyway, just for PoorLuci, here's what I did: Summer 2007. Using US #6/4mm needle, CO 133[144] sts, placing a marker every 22[24] sts. Note: For the smaller size only, there will be 23 sts after the last marker, instead of 22. Also for the smaller size only, omit the yo at the beginning of the first row. K1 instead. Work Row 1 of chart pattern using US #2/2.75mm circular needle. Place marker and join to begin working in the round, being careful not to twist. Knotty but Nice hat - Knitty: Winter 2009. DIRECTIONS Using circular needle, CO 120 sts. Place marker and join to begin working in the round, being careful not to twist. Round 1: P1, k2, [p2, k2] to last st, p1. This round sets 2x2 Rib for hat. Continue in 2x2 Rib until work measures 1.25 inches. Fall 2006. Using circular needle and two strands of MC held together, CO 60[60, 64, 68] sts.
Place marker and join to begin working in the round, being careful not to twist. Note: Piece is worked with two strands of MC held together throughout. Work Rounds 1-4 of Baby Cable Rib pattern 6[7, 8, 9] times, then work Rounds 1-3 once more. Eyelet Round: [K2tog but do not drop sts from left needle, k into first of these sts again, drop both sts from left needle, yo, p2tog] to end. Work 6 more rounds in pattern as set. Trilobite - Knitty, Summer 2009.
Chart: The chart for this pattern fits on a letter-sized page. Click here and print. 1x1 Rib (Worked in the round over an even number of sts): All rounds: [K1, p1] to end. C2B: Sl 1 to cable needle and hold to back of work, k1 from left needle, k1 from cable needle.
---