Blogs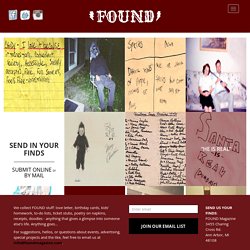 FOUND by Cindy I found this inside a 1921 copy of Oral and Written English Intermediate. Miss Grace Dietrich wrote her name inside the book as well. Not sure if it was an exercise for the class or if the letter is real. FOUND by Brian at Atlantic Station, Midtown Atlanta, Georgia Went to see The Hobbit Part 2 with friends.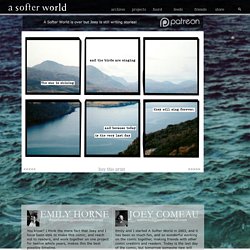 emily A Softer World 4: Let's Do Something Wrong is finally available on TopatoCo, so if you missed the Kickstarter, you can still get on this NEW BOOK train! Thanks to all the Kickstarter backers who are sending us photos of their packages, it's super cool to see! joey The We Are Become Pals book is here! You can buy it right now, for $16 in hardcover!
For years I've been carrying sketchbooks around with me and drawing things about life and humanity that I find funny and inspiring. Most of these are comics. I hope you'll stick around and laugh, ponder, and feel inspired by the nonsense that we are. Latest Comics / View All Posts Here's a little self-portrait/comic thing about inspiration. I love that feeling when you are suddenly overcome with ideas and excitement.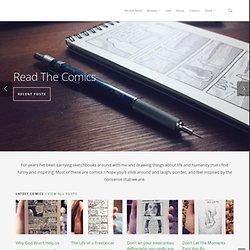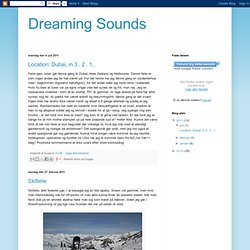 Dreaming Sounds
Da min bror i sin tid var hjemme for at holde jul og nytår, sagde han en ting som gjorde indtryk i sådan en grad at jeg husker det til stadighed. Han spurgte mig om jeg havde købt hans julegave på det givende tidspunkt, jeg løj og fortalte ham at den allerede var købt. I sekunderne efter fortrød jeg og fortalte ham sandheden. Han gik ind på hans værelse (som ikke længere er hans værelse, eftersom han bor 10000 kilometer væk, men snarer mit opholdsrum) og kom ud med hans solbriller, disse var et par Lozza solbriller i vintage stil. Han åbnede etuiet og jeg kunne se at de mildest talt havde set bedre dage.
A split second of complete happiness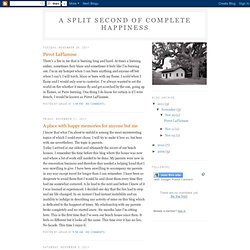 The music picks up speed, the intensity grows towards something very exhilarating, yet you don't notice it at all. You've got everything that you could possibly crave for, coffee, cinnamon biscuits and a warm duvet to cover most of your body; yet you do not think of it. The only thing on your mind is the story printed on the very pages you keep before you, everything else seems rather pointless.