Android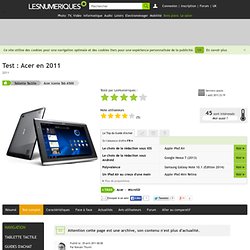 Acer Iconia Tab A500 : Test complet
Attention, les prix affichés dans le tableau ci-dessus concernent aussi la version 16 Go de la tablette. Prudence si vous souhaitez acheter le modèle 32 Go (version testée). [Mise à jour du test du 25/04/2012] : La tablette Iconia Tab A500 n'est plus produite depuis plusieurs mois, mais il reste cependant quelques exemplaires dans certaines boutique. La tablette est passée récemment sous Android 4 ICS. Devant l'arrivée de nouveaux produits qui la surpasse en réactivité, notamment sa remplaçante Iconia Tab A510, dotée en plus d'un Tegra 3 et d'une autonomie de folie, nous avons décidé de baisser la note de la A500, qui passe de 5 à 4 étoiles. Comme lors de l'arrivée à maturité d'Android sur smartphones, le débarquement de Honeycomb, conçu pour les tablettes, apporte son déferlement de produits.
Forum TegraOwners • TegraOwners Community Nvidia Tegra2 Tablets, Phones - ROM, Apps,
[Dev][Kernel] A50x jb kernel - t40 by thor2002ro » 08 Sep 2012, 22:27 This is for testing new kernel trying to fix some of the sod and a501 problems... so let's start...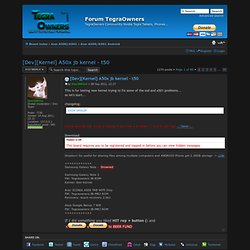 Forum TegraOwners • View topic - [Dev][Kernel] A50x jb kernel - t40
[Dev]A500/A501 JB-MR1(4.2) device building - v12
Forum TegraOwners • View topic - [Dev]A500/A501 JB-MR1(4.2) device building - v12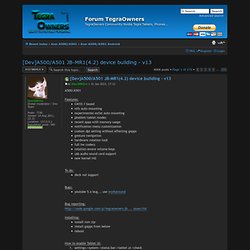 It's just to keep in mind. I'll try it later, or not... ;-) by gpascal Jan 27
Planete Android
HTC Hero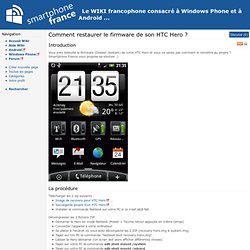 Comment restaurer le firmware de son HTC Hero ? - Android & Windows Mobile pour les nuls
Modifier Vous avez bidouillé le firmware (Dossier /system) de votre HTC Hero et vous ne savez pas comment le remettre au propre ? Smartphone France vous propose sa solution :) Modifier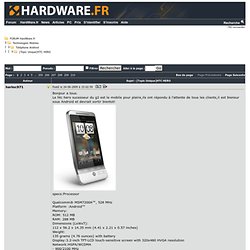 FORUM HardWare.fr
Bonjour a tous. Le htc hero sucesseur du g2 est le mobile pour plaire,ils ont répondu à l'attente de tous les clients,il est biensur sous Android et devrait sortir bientot! specs:Processor Qualcomm® MSM7200A™, 528 MHz Platform :Android™ Memory: ROM: 512 MB RAM: 288 MB Dimensions (LxWxT): 112 x 56.2 x 14.35 mm (4.41 x 2.21 x 0.57 inches) Weight: 135 grams (4.76 ounces) with battery Display:3.2-inch TFT-LCD touch-sensitive screen with 320x480 HVGA resolution Network:HSPA/WCDMA - 900/2100 MHz - Up to 2 Mbps up-link and 7.2 Mbps down-link speeds Quad-band GSM/GPRS/EDGE: - 850/900/1800/1900 MHz (Band frequency and data speed are operator dependent.)
SPF Forum
Forum FrAndroid
[Tutoriel] Installer une Rom
[HTC Hero] [Tutoriel] Installer une Rom Nu / Custom v2.3 Qu'apporte la ROM Nu Officielle ? Les ROMs avec personnalisation opérateur sont pourvues de certaines limitations: - Switch mode connexion 2G/3G (indisponible sur ROM Three) - Partage en USB avec un PC de la connexion 3G/Wifi du smartphone (option indisponible sur ROM Orange) - Applications Gmail, Gtalk & Youtube (ROM Orange dépourvue des applications) Note : Le protocole http est celui utilisé pour le surf internet donc compris dans tout forfait data. Les protocoles IMAP/POP sont utilisés pour la réception/envoi d'emails.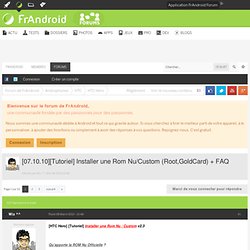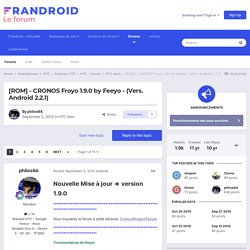 [ROM] - CRONOS Froyo Android 2.2.1
Nouvelle Mise à jour => version 1.9.0 ************************************************************************************* Vous trouverez le forum à cette adresse: CronosProject Forum ************************************************************************************* Commentaires de Feeyo: As requested by some users here is a new version of Cronos froyo for the HTC Hero. Enjoy your Hero to the max Afin d'améliorer la performance: Désactiver les animations dans le SpareParts. Cela améliorera grandement la rom. ************************************************************************************* Cronos Froyo 1.9.0 ************************************************************************************* Petit rappel: Si vous installez la nouvelle version 1.9.0, alors que vous venez d'une autre rom, il vous est conseillé de faire un Wipe data/factory reset, cache, et dalvik cache uniquement avant le flash de celle-ci, et de rebooter entre chaque flash.
Bon, je viens de l'installer, avec tous les patchs (plus une version repackagée du clavier Gingerbread, incluant les dictionnaires), et le tout marche au poil : le système est très très réactif, bien que semblant un poil moins fluide au niveau des animations... Pour le coup, le launcher officiel Android est bien plus stable et rapide que Launcher Pro, donc je reste dessus : pour le moment, que du bonheur, il faut juste attendre pour voir ce que donne l'autonomie. A suivre ! Guiluge
Cronos Ginger 2.3.1 - V0.0.9 Bêta
HTC Hero reviews and technical details - Softpedia
The Android SDK includes a mobile device emulator — a virtual mobile device that runs on your computer. The emulator lets you develop and test Android applications without using a physical device. This document is a reference to the available command line options and the keyboard mapping to device keys. For a complete guide to using the Android Emulator, see Using the Android Emulator .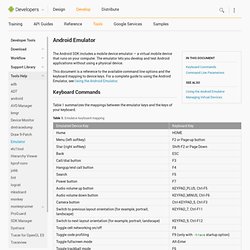 Androidarium
PointGPhone
AndroLib
@lcordero, you'd better use androlib because of QR codes search by gpascal Jan 27
it's useless as is, except on the phone. You're right by gpascal Jan 27
Autres terminaux Android : netbooks, tablettes, MID, PMP
TabletteDroid « Tutos, infos sur les tablettes android !
HONGKONGEEK.COM
support.mediawave.fr - Voir le forum - Espace PMP, Tablettes internet multimédia, MID, UMPC